Shoot, Edit, SELL! WEVA 2012 Speakers Will Share Winning Techniques; Register Now
June 01, 2012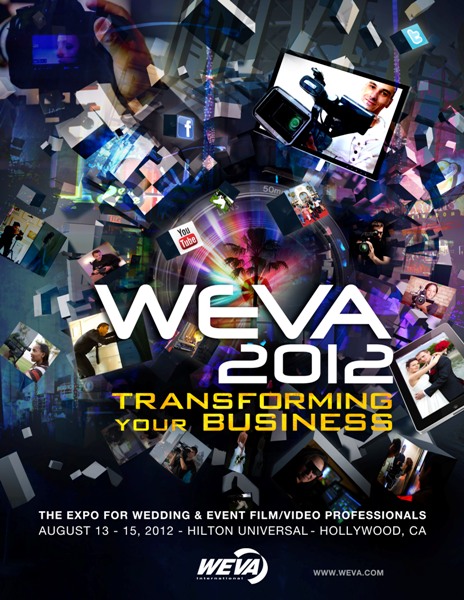 Sarasota, FL - Transform your business for today's market, network and connect this summer at WEVA 2012 - The Expo for Wedding & Event Film/Video Professionals in Hollywood, CA.

WEVA 2012 will be held at the world-renown Hilton Universal hotel just steps away from Universal Studios/CityWalk August 13-15, 2012 with Optional Workshops on both August 13 & 16, and 2-day Trade Show August 14 & 15. Open to all industry professionals, affiliates and students.

"Whether your cameras are DSLR, standard video, digital cinema, or a combination, WEVA 2012 will offer an unparalleled opportunity for increasing your success. Attend cutting-edge Sessions, and Q&A Panels on hot-topics -- including Music Licensing, and New Camera Breakthroughs -- and go hands-on with new gear at the Trade Show. See what's ahead for the future and enjoy networking industry-wide," said John Zale, WEVA 2012 Director of Education.

"We're excited to announce an initial slate of sessions, presenters and special events, including Mock Wedding Xtreme – LIVE! that will focus on new solutions for wedding/event and corporate productions, and how to make more money."

WEVA 2012 Featured Sessions & Presenters - Partial List

Shoot... Edit... TELL! Killer Techniques for Wedding Day Storytelling
Rick Marrone - Marrone Video

Booked Solid: Success Demystified
David Hohenthaner & Maureen Taylor - VHVIDEO.COM

Editing: Invisible Art
Andrew Waite - Lovestruck Films

Conquer Your Fear: How Shooting DSLR Transformed Our Wedding Business
Alex Karas - Voila Cinematic

Wedding Films + Corporate: Branding That Delivers
Ryan Koral - Epic Motion and Tell

Advanced Camera Techniques
Roberto Candiani - Grupo Candiani

Succeeding With Budget Brides
Julie Conroy - In Any Event Productions

Shoot... Edit... SELL! New Ways to Rock Your Market
Tim Sudall - Video One Productions


WEVA 2012 officially opens Monday, August 13 at 6:00pm with the 22nd Annual WEVA Creative Excellence Awards Presentation, and 2012 WEVA Hall of Fame inductions, offering ample time for networking Monday night on-site and at Universal Studios/CityWalk. WEVA 2012 Special Event Presentations will include Mock Wedding Xtreme - LIVE! Tuesday evening, August 14.

Optional Pre-EXPO Workshops will be held Monday afternoon. WEVA 2012 Sessions, Q&A Panels, and two-day Trade Show will be held August 14-15. Optional Post-EXPO Workshops Thursday, August 16 will feature extended hours (limited seating) from 9am-5pm.

Register for WEVA 2012 online at www.weva.com/weva2012. Single-day passes and All-EXPO Access are available. For WEVA 2012 Trade Show Exhibitor Information email info@weva.com or call 941-923-5334. Watch for more WEVA 2012 updates coming soon.


About WEVA International

As the largest Association for wedding and event film/video producers, WEVA leads the field with education that's on the cutting-edge of industry developments and new technologies worldwide. WEVA members have access to exclusive business benefits and professional development resources, including long-standing Association discounts on business insurance and the recent music licensing breakthrough exclusively for WEVA members. For more information on WEVA industry events, and WEVA membership benefits email info@weva.com or click here. Follow WEVA on and facebook.