Wedding & Event Productions to be Honored at WEVA 2012 in Hollywood - Enter Now
May 10, 2012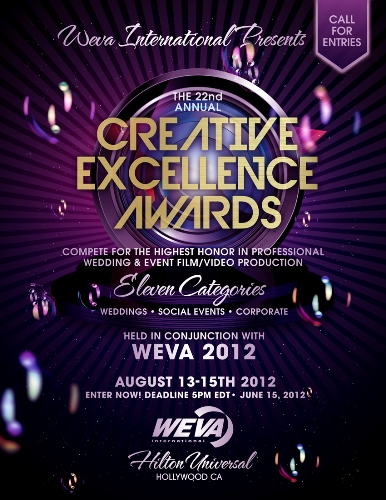 Sarasota, FL - Achieve recognition for your production creativity nationally and internationally. Enter your finest wedding productions, social event productions, and corporate work now in the WEVA 22nd Annual Creative Excellence Awards Competition. Download the 2012 Official Rules & Entry Form here.

Open to all industry professionals worldwide, this year's Competition features eleven categories, and up to three entries may be submitted per category. The deadline for all entries is 5:00 p.m. (EDT) Friday, June 15, 2012.

"The 2012 WEVA CEA Competition, our industry's longest-running and most prestigious international competition, allows you to enter as many of the 11 categories as you choose," said John Zale, WEVA's Director of Educational Development.

"Like last year, there are categories for Wedding Trailer, Short Form Wedding Production, Social Event Highlights, Concept Production, Theatrical Production, Corporate Event Highlights, and more. Over the years, many have risen to prominence in our industry by entering the WEVA Creative Excellence Awards Competition annually.

"Each year, WEVA Awards are presented to wedding and event production professionals nationally and worldwide. Many are first-time recipients. Every year is a fresh opportunity to enter your best work," said Zale.

Winners to Be Honored at WEVA 2012 in Hollywood

The 2012 WEVA Creative Excellence Award Competition Winners will be announced and honored LIVE in Hollywood, CA at WEVA 2012 - The Expo for Wedding & Event Film/Video Professionals on Opening Night, Monday August 13, 2012 at Hilton Universal across from Universal Studios/CityWalk. Registration for WEVA 2012 August 13-15 (with optional workshops August 16) opens shortly at www.weva.com/weva2012

Download the 2012 WEVA Creative Excellence Awards Competition Entry Form and enter your finest productions now.


About WEVA International

As the largest Association for wedding and event film/video producers, WEVA leads the field with education that's on the cutting-edge of industry developments and new technologies worldwide. WEVA members have access to exclusive business benefits and professional development resources. For more information on WEVA industry events, and WEVA membership benefits email info@weva.com or click here. Follow WEVA on twitter and facebook.