Register for Alex Buono's New 32-City Tour - Discount for WEVA Members
August 07, 2015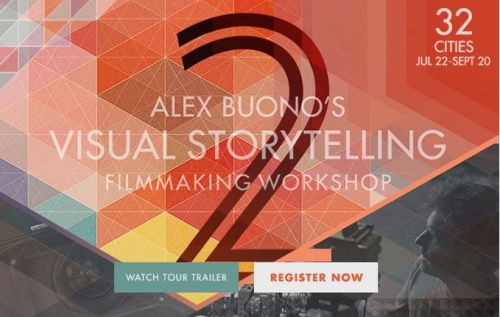 Sarasota, FL - In 2013, "The Art of Visual Storytelling Tour" featuring SNL Film Unit Cinematographer Alex Buono, produced by MZed, visited cities nationwide and garnered over 4,000 attendees.

This summer, Alex is on the road with a new 32-city tour for Alex Buono's Visual Storytelling 2, produced by MZed. This 32-city Tour is an all-new filmmaking workshop that goes beyond the original tour by focusing on lighting and shooting techniques with a full day of live demonstrations.

WEVA members receive a special discount of $20 off each Tour registration (using the WEVA discount code) and also enjoy an exclusive, limited-time Bonus Premium of $20 off the price of instructional training for filmmakers that can be downloaded from the MZed store. Watch the Tour Trailer here.

Shooting 15 seasons for SNL has given Alex the opportunity to shoot essentially every filmmaking genre. Because of SNL's format, he faces incredible time demands -- virtually every shooting situation presents challenges that must be overcome with almost no prep time.

Alex's field-tested experience allows him to teach attendees skills and techniques to utilize in a variety of lighting and shooting situations, such as shooting in mixed color temperatures, shooting in a car, choosing the proper lens, and controlling natural light.

Visual Storytelling 2 is being taught using gear that is practical and accessible. A limited gear package is used during the class at each city-stop, and the instruction utilizes the same set of tools in different ways. This approach gives filmmakers the range and flexibility needed to create several different looks with a modest set of affordable and easy to acquire resources.

Just like its predecessor, Visual Storytelling 2 is divided into a daytime hands-on workshop and an evening lecture. In 2013, the evening lecture was all about the principles of visual structure. This time around, Alex is focusing on visual subtext, one of the biggest things that separates average films from the greatest films of all time. Alex delves into art history, literature, religion, politics and philosophy, and provides the 7 most practical ways to add subtext to your films – like camera movement, composition, lighting, sound design, production design, hair design and even makeup.

For more information on locations, dates, workshop outline, and to register visit Alex Buono's Visual Storytelling 2 Filmmaking Workshop.


About Alex Buono

Born in Portland, OR, Alex moved to Los Angeles in 1991 to attend the USC School of Cinematic Arts, majoring in film production and still photography. His early post-collegiate years were spent on the camera crews of studio films including Twister, Conspiracy Theory, and Armageddon. Alex was a professional cinematographer of many indie films and music videos, and is also currently the Director of photography for the Saturday Night Live Film Unit.

In 2003, Alex received an Oscar Nomination for the short film Johnny Flynton, which he filmed and also produced. Alex repeated the dual role of cinematographer and co-producer on Green Street Hooligans, about London's football subculture starring Elijah Wood and Charlie Hunnam, which won both the Grand Jury Prize and Audience Award at the 2005 South By Southwest Film Festival. Alex wrote, produced, and shot the feature documentary Bigger Stronger Faster, which premiered in competition at the 2008 Sundance Film Festival and was distributed theatrically by Magnolia Pictures.

Along with his continuing work at Saturday Night Live, Alex is currently writing, directing and producing the feature documentary The Deporter, and has begun co-directing the new IFC-series American Documentary. Alex is a member of the Writer's Guild of America, the International Documentary Association, and the International Cinematographer's Guild. He lives in Venice, California where he continues to write and produce with his partner Tamsin Rawady for their production company, Third Person.


About MZed

Through educational workshops and online downloads MZed creates a community where filmmakers, designers, and photographers can form rewarding relationships, while learning from world-class instructors in these fields. In the past, MZed has partnered up with many noteworthy instructors on filmmaking tours such as Adam Epstein, Shane Hurlbut and Vincent Laforet. Visit MZed at www.MZed.com


About WEVA International

As the worldwide trade association for professionals who film weddings and events, WEVA leads with education that's on the cutting-edge of new trends and technologies in our industry. WEVA members enjoy exclusive access to cost-saving benefits and professional development resources. Become a WEVA member today at https://www.weva.com/join/index.php. For more information email info@weva.com and find WEVA on Facebook. Follow @WEVAnews on Twitter.