Mock Wedding Xtreme - LIVE! to be Presented at WEVA 2012
May 24, 2012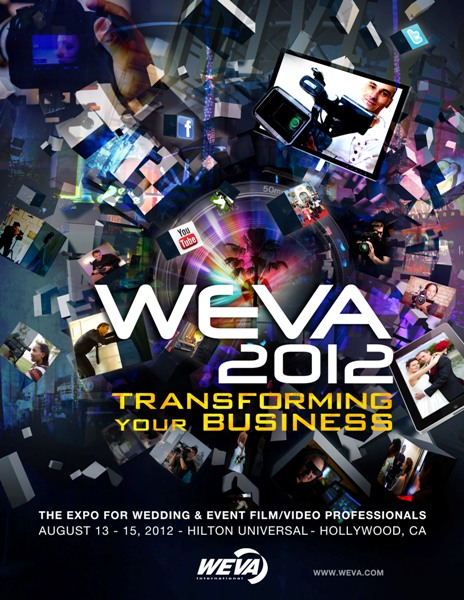 Sarasota, FL - The explosion in camera technology and accessories for filming weddings has shooters asking, "So how can we compare and learn new camera creativity that sets us apart from the competition, along with new audio techniques, lighting, even live-streaming techniques? And see the shots being done by top shooters simultaneously, in an actual wedding day setup?"

It happens this summer at Mock Wedding Xtreme – LIVE! an interactive presentation set for WEVA 2012, said John Zale, WEVA's Director of Educational Development.

From the ballroom of the famed Hilton Universal/CityWalk, Mock Wedding Xtreme – LIVE! will feature actual pre-ceremony staging, wedding altar, sanctuary, and reception staging, Zale said, "plus live bridal models and stop-action events to reveal multiple ceremony and reception camera techniques and on-location solutions. This is where you can see and compare techniques as they are being performed by a number of top shooters nationally and internationally, each of whom have their own unique style. Be there, and be inspired!"

Developed by WEVA, Mock Wedding Xtreme – LIVE! is a full evening presentation Tuesday, August 14 that will reveal new techniques, new gear, and new camerawork using:

* Moving Cameras

* Wireless Cameras

* DSLR/Video Cameras (Hybrid Techniques)

* Hand-Held, Tripod & Monopod-mounted Cameras

* Camera Crane & Jib Techniques

* Ceremony & Reception Audio Techniques

* Microphone Differences and Distinctions

* LIVE-Streaming Techniques

* Video Capture Options

* Lighting Options

* Solutions Using On-Location Accessories

"There have been mock wedding presentations in the past, including our own at WEVA 2007," said Zale. "But nothing on a scale of this size that includes pre-ceremony, LIVE-Streaming, today's new gear, and multiple shooters explaining their own unique set-ups and on-site techniques as they are actually performing them. For anyone shooting weddings and receptions, it's going to answer a ton of questions and transform your creativity. It will inspire you with new ways of thinking about 'The Story' elements and their emotional impact. And, new ways to increase your bottom-line success."

Hilton Universal to Host WEVA EXPO 2012 August 13-15

WEVA 2012 - The EXPO for Wedding & Event Film/Video Professionals will be held at California's renown Hilton Universal in the Hollywood Hills, across from Universal Studios/CityWalk August 13-15, 2012 (with optional workshops Thursday, August 16). Open to all industry professionals, affiliates, and students.

WEVA 2012 officially opens Monday, August 13 at 6pm with the 22nd Annual WEVA Creative Excellence Awards Presentation, and 2012 WEVA Hall of Fame inductions, offering ample time for networking Monday night, on-site and at Universal CityWalk.

Optional Pre-EXPO Workshops will be held Monday afternoon. WEVA 2012 Sessions, Q&A Panels, and two-day Trade Show will be held August 14-15. Optional Post-EXPO Workshops Thursday, August 16 will feature extended hours (limited seating) from 9am-5pm. It all takes place under one roof, at Hilton Universal. Registration opens shortly at www.weva.com/weva2012 with single-day passes and All-EXPO Access. For WEVA 2012 Trade Show Exhibitor Information email info@weva.com or call 941-923-5334. Watch for more WEVA 2012 updates coming soon.


About WEVA International

As the largest Association for wedding and event film/video producers, WEVA leads the field with education that's on the cutting-edge of industry developments and new technologies worldwide. WEVA members have access to exclusive business benefits and professional development resources, including long-standing Association discounts on business insurance and the recent music licensing breakthrough exclusively for WEVA members. For more information on WEVA industry events, and WEVA membership benefits email info@weva.com or click here. Follow WEVA on twitter and facebook.