Event Video Industry Pioneer, Educator Eric Model Has Passed Away at 38
July 12, 2014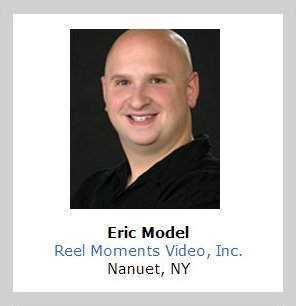 Sarasota, FL - Event video innovator, NJVA president, and multi-year WEVA EXPO presenter, Eric Scott Model owner of Reel Moments Video in Nanuet, NY died on July 11 at NYU Hospital after complications following brain surgery on June 17, according to the email bulletin from NJVA vice-president Dave Hall received by members this morning. He was 38.

As many in the professional wedding and event video/film community knew, Eric suffered a stroke several years ago. "He never allowed his uncertain health to alter his plans or diminish his life," the NJVA announcement related. "He continued to be active and enthusiastic about the business, not only running his own company but remaining fully engaged in our organization both as vice-president and, most recently, our president. For all this we are grateful. He will be sorely missed."

A WEVA Creative Excellence Gold Award winner and spirited industry educator, Eric held dual degrees in Mass Media and Photography from Plattsburgh State University. He had worked in virtually every aspect of production. The NJVA bulletin noted his experience in TV production included jobs with NBC, UPN-9 and News12 NJ, and positions ranging from studio tech and lighting director, to live field cameraman and editor. In 1998, he opened Reel Moments Video to serve the private social events market as well as corporate clients.

"Eric was gifted with profound talents, not only artistically and technically, but personally with his warm and welcoming presence as an industry communicator," said WEVA chairman Roy Chapman. "He had such an immediate rapport with everyone, always so upbeat and approachable, whether he was meeting you for the first time or teaching from the convention platform. It's what made his sessions at WEVA events inspiring and so influential in our industry, including his presentations on techniques he pioneered for producing and marketing instant edits.

"Years ago, Eric was already urging wedding videographers to offer same day edits based on his own company's experience. Every time he screened them at events in-progress he said they became a 'walking business card' generating potential clients before he left the reception. Eric's guiding light in so many areas and his spirited dedication to our industry has provided a lasting legacy that will be with us always."

Eric leaves behind his wife, Nancy and two young children, Timothy, 7, and Avery, 2. The funeral will be held at 10 a.m. Monday, July 14 at Hellman Memorial Chapels, 15 State Street in Spring Valley, NY, followed by burial at Sharon Gardens, 273 Lakeview Avenue in Valhalla, NY. Shivah will be at the home of Eric's parents.

"A donation website has been created by Eric's close friend Evan Soloff to assist Eric's family in this difficult time," the NJVA relates. "Eric was in the process of getting life insurance in 2008 when his first stroke happened, making him uninsurable. He had no life insurance. Please visit the site Evan created at www.gofundme.com/ericmodelfund."



About WEVA International

As the worldwide trade association for professionals who film weddings and events, WEVA leads with education that's on the cutting-edge of new trends and technologies in our industry. WEVA members enjoy exclusive access to cost-saving benefits and professional development resources. For more information email info@weva.com and find WEVA on facebook. Follow @WEVAnews on twitter.