New Cleared Music for Wedding Films & Events in APM's October Releases
October 01, 2013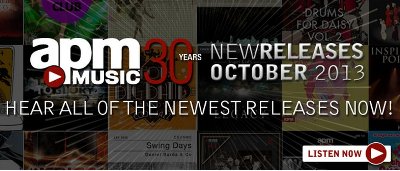 Los Angeles, CA - Fall is always full of drama and tension in television, film, and advertising, with the inspiration of winter holidays not far behind. Check out the new Pop & Electronic, or Retro & Quirky selections, and much more in the APM Music October releases.

WEVA members use your exclusive WEVA Member Discount and save on the entire APM catalog of cleared music for wedding films and events. See the list of new releases for October here and visit APM at www.APMmmusic.com


About APM Music

APM Music (a joint venture of EMI Music Publishing and Universal Music Publishing), the most comprehensive collection of original music available to entertainment and media producers, provides North American-based production clients with exclusive access to over 350,000 tracks of music produced specifically for use in film, television, radio, and new media productions. Some of APM's key clients include NBC, ABC, CBC, Corus, Fox, HBO, Showtime, ESPN, MLB, PGA, Universal, Discovery, Current TV, MTV, BBDO, Electronic Arts and thousands of others. Learn more at www.APMmmusic.com

About WEVA International

As the worldwide trade association for professionals who film weddings and events, WEVA leads with education that's on the cutting-edge of new trends and technologies in our industry. WEVA members have exclusive access to cost-saving benefits and professional development resources. Become a WEVA member today at www.JoinWEVA.com. For more information email info@weva.com and follow WEVA on facebook. Follow WEVA industry news on twitter.