Blackmagic Lowers Price of Blackmagic Cinema Camera to $1,995
August 02, 2013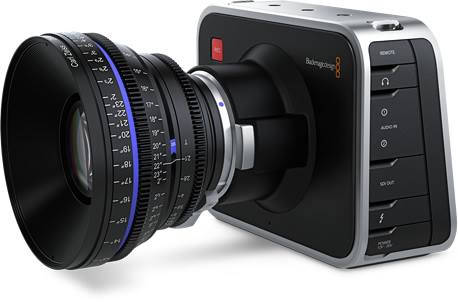 Fremont, CA - Blackmagic Cinema Camera (BMCC), globally recognized for its 13 stops of wide dynamic range and 2.5K sensor has been lowered in price to $1,995 for both the EF and passive MFT lens mount models. DaVinci Resolve software is included in the price. Blackmagic Design announced the cost reduction today noting BMCC models are available now from Blackmagic resellers worldwide.

With RAW, ProRes™ or DNxHD™ recording, BMCC files can be opened directly in popular editing software without conversion. The camera design includes a super fast SSD recorder, rechargeable battery, and 5" LCD touchscreen. The touchscreen monitor is designed to allow easy monitoring, metadata entry, camera settings and fast, accurate focus.

Blackmagic Cinema Camera Key Features

* The Blackmagic Cinema Camera is available in either EF or MFT lens mount models.
* Super wide 13 stops of dynamic range allows capture of increased details for feature film look.
* High-resolution 2.5K sensor allows improved anti-aliasing and reframing shots.
* Built-in SSD recorder allows high bandwidth recording of RAW video and long duration compressed video.
* Open file formats compatible with popular editing software such as CinemaDNG 12 bit RAW, Apple ProRes and Avid DNxHD. No custom file formats.
* Includes no custom connections. Standard jack mic/line audio in, BNC 3 Gb/s SDI out, headphone, high-speed Thunderbolt I/O technology, LANC remote control and standard DC 12-30V power connection.
* Capacitive touchscreen LCD for camera settings and "slate" metadata entry.
* Supports 2.5K and 1080HD resolution capture in 23.98, 24, 25, 29.97 and 30 fps.
* Thunderbolt connection allows direct camera capture via included Media Express software and supports live waveform monitoring via the included Blackmagic UltraScope software.
* Includes a full copy of DaVinci Resolve color grading software.

"The response to the Blackmagic Cinema Camera has been incredible," said Grant Petty, CEO, Blackmagic Design. "The tremendous support we received encouraged us to work even harder to make the camera available to more videographers and filmmakers. It's amazing to see the projects that have already been completed and I can't wait to see what the creative community delivers next!"


About Blackmagic Design

Blackmagic Design creates the world's highest quality video editing products, digital film cameras, color correctors, video converters, video monitoring, routers, live production switchers, disk recorders, waveform monitors and film restoration software for the feature film, post production and television broadcast industries. Blackmagic Design's DeckLink capture cards launched a revolution in quality and affordability, while the company's Emmy™ award winning DaVinci color correction products have dominated the television and film industry since 1984. Blackmagic Design continues ground breaking innovations including stereoscopic 3D and 4K workflows. Founded by world leading post production editors and engineers, Blackmagic Design has offices in the USA, United Kingdom, Japan, Singapore, and Australia. For more information, please check www.blackmagicdesign.com

About WEVA International

As the worldwide trade association for professionals who film weddings and events, WEVA leads with education that's on the cutting-edge of new trends and technologies in our industry. WEVA members have exclusive access to cost-saving benefits and professional development resources. To access exclusive WEVA member benefts, start your membership today. For more information, email info@weva.com and follow WEVA on facebook. Follow WEVA industry news on twitter.