Canon 5D Mark III Gets Uncompressed HDMI Out and Improved AF
April 30, 2013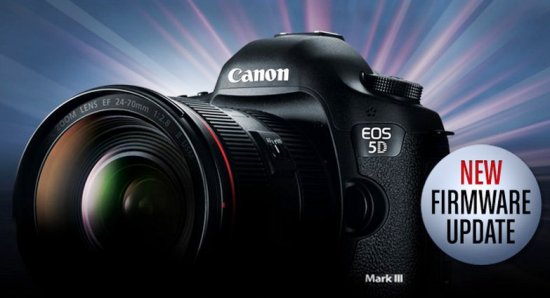 Sarasota, FL - New firmware for Canon's EOS 5D Mark III adds two key features, including a clean HDMI output option, and cross-type autofocusing with the center AF point when the maximum aperture becomes as small as f/8.

With the new update, the Canon announcement says the 5D Mark III can record uncompressed digital video with embedded time code over HDMI output while simultaneously displaying the video on the rear LCD display and recording to internal CF or SD cards.

Combined with an improved color sampling of YCbCr 4:2:2 8-bit video, this firmware update adds efficiency to video editing, improves color grading options, and enhances on-set monitoring. The new "mirroring" feature via the HDMI output allows video to be displayed on the rear LCD screen with or without scene and camera information while also outputting a clean video signal to
a monitor or external recorder.

An external recorder not only enables a video signal devoid of compression artifacts, but also allows a choice of preferred edit-ready codec, the ability to shoot in a variety of frame rates and bit rates, and longer record time. Combined with the heightened color correction capabilities as a result of the expanded color space, post-production workflows will be smoother and offer users greater control and quality.

With external recorders it is also possible to use a variety of on-set monitoring solutions, which facilitate real-time viewing of EOS 5D Mark III video with the Rec. ITU-R BT.709 color matrix.

More details from the official announcement are on the Canon site here.


About WEVA International

As the largest trade Association for professionals who film weddings and events, WEVA leads with education that's on the cutting-edge of new trends and technologies in our industry. WEVA members have exclusive access to cost-saving benefits and professional development resources. To access exclusive WEVA member benefts, start your membership today. For more information, email info@weva.com and follow WEVA on facebook. Follow WEVA industry news on twitter.