SNL DP Alex Buono to Bring 'Art of Visual Storytelling' Tour to 31 Cities
May 09, 2013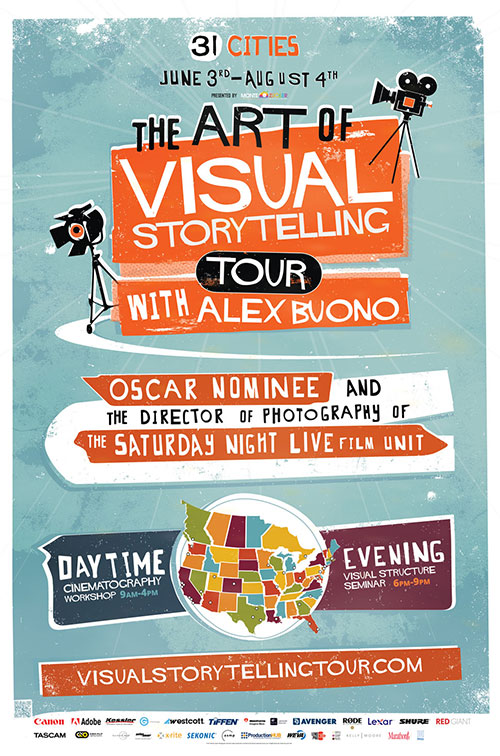 Sarasota, FL - "The Art of Visual Storytelling" is a nationwide tour teaching the art and craft of visual storytelling for filmmakers, including wedding and event professionals, in 31 cities (Toronto 6/13) this summer. Instruction takes place in a two-part educational format: a 7-hour daytime workshop and a 4-hour evening session. Attendees may register for either the Daytime Cinematography Workshop, the Evening Visual Structure Seminar, or both.

WEVA members can take 20% off registration for "The Art of Visual Storytelling" evening session. The tour will run from June 3rd to August 4th.

Tour instructor Alex Buono is a professional cinematographer of indie films, music videos, and has been the Director of Photography for the Saturday Night Live Film Unit for the last 15 seasons. In 2003, Alex received an Oscar Nomination for the short film Johnny Flynton, which he photographed and also produced.

Alex repeated the dual role of cinematographer and co-producer on Green Street Hooligans, about Londonís football subculture starring Elijah Wood and Charlie Hunnam, which won both the Grand Jury Prize and Audience Award at the 2005 South By Southwest Film Festival.

He was the cinematographer of Shanghai Kiss, shot in China. He also wrote, produced, and shot the documentary Bigger Stronger Faster, which premiered in competition at the 2008 Sundance Film Festival and was distributed theatrically by Magnolia Pictures. Other credits include ESPNís award-winning comedy series Mayne Street and 2nd Unit director/dp work for the ABC drama series Detroit 187 and the NBC drama series Chicago Fire.

Alex's 10th season with Saturday Night Live marked his first experimentation with the DSLR format, shooting the show's title sequence and most of the season's commercial parodies with Canonís 5DmII and 7D cameras. Soon after, Alex was invited to join Canon's "Explorers of Light" program.

Alex has filmed on the sets of dozens of studio films, including Twister, Conair, and Armageddon, and was mentored by legendary ASC cinematographers, including Conrad Hall, Dean Cundey, Jack Green and John Schwartzman. Alex is a member of the Writerís Guild of America, the International Documentary Association, and the International Cinematographerís Guild.

Alex lives in Venice, California where he continues to write and produce with his business partner Tamsin Rawady for their production company, Third Person, represented by Hyphen Management.

The tour's Daytime Cinematography Workshop provides an on-set learning experience by giving attendees a behind-the scenes look at the process Alex uses in his filmmaking. Alex will take a short film script from SNL and break down the process of filming it into individual steps, including creating a shotlist, a lighting plan, and an equipment and crew list.

Then Alex will select students from the class to be his crew. He and the students will shoot the scene together, using techniques and tools that he uses on the SNL set every day. He will demonstrate exactly how to set up camera moves, light a master shot with matching coverage and work with audio. Aex will take the footage all the way through his normal onset workflow, from the camera all the way to the edit using the latest footage management tools. The class will end with a look to the future of 4K delivery, discussing vital 4K considerations both on set and in post.

The Visual Structure Seminar which will be held in the evening at each tour-stop, will focus specifically on the visual language behind the most beautiful films in the history of cinema. Alex will start the program by discussing the tools and techniques needed to get the most cinematic look possible, covering everything from frame rates, shutter speeds, and camera settings to audio, vital production gear, and workflow. The program will then address the real nuts & bolts of visual storytelling in a program dedicated to the principles of Visual Structure. Alex will introduce concepts such as space, line, shape, tone, color, movement, and rhythm. He will show how he uses these visual components in his own work, and beyond that, discuss how the great filmmaking masters have used them.

For full content and ticketing information please refer to the Tour website:www.VisualStorytellingTour.com. For more information on WEVA member discount registration email WEVA at info@weva.com or call 941-923-5334.


About WEVA International

As the largest trade Association for professionals who film weddings and events, WEVA leads with education that's on the cutting-edge of new trends and technologies in our industry. WEVA members have exclusive access to cost-saving benefits and professional development resources. To access exclusive WEVA member benefts, start your membership today. For more information, email info@weva.com and follow WEVA on facebook. Follow WEVA industry news on twitter.