WEVA Announces New Member Benefits & New Membership Rates
May 14, 2013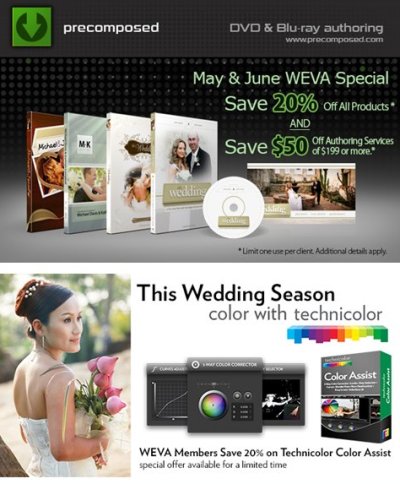 Sarasota, FL - Discounts for WEVA members on new tools and training from leading performers like Technicolor, Precomposed, AbelCine, and Saturday Night Live DP Alex Buono are all included in the new membership benefits announced in time for the May/June Wedding Season. The newly added business advantages coincide with new WEVA membership rates on monthly and yearly membership plans (starting at $24.99).

The total retail value of the new membership benefits, including WEVA registration discounts for upcoming digital pro workshops at AbelCine (LA & NYC) offers over $500 in savings to Association members.

WEVA members can combine these just-added business advantages with current business benefits for members, including the music licensing breakthrough for weddings and events from Hollywood's APM Music to increase savings and expand production artistry.

Take full advantage of the exclusive new benefits for WEVA members and take your creativity, and your production skills, to the next level this wedding season.


About WEVA International

As the largest trade Association for professionals who film weddings and events, WEVA leads with education that's on the cutting-edge of new trends and technologies in our industry.

WEVA members have exclusive access to cost-saving benefits and professional development resources. To access exclusive WEVA member benefts, start your membership today.

For more information, email info@weva.com and follow WEVA on facebook. Follow WEVA industry news on twitter.