WEVA NEWS MINUTE: PAG's 'Orbitor' Camera Stabilizer
August 26, 2005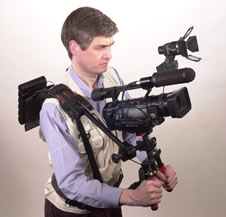 Sarasota, FL - Wedding & event videogaphers got to test drive the new PAG Orbitor camera stabilizer at WEVA EXPO 2005. The systemís 3-axis control is designed to allow smooth pan, tilt, and roll.

The shoulder-mount system also allows for hands-free resting between shots. Producer Bruce Himmelblau captured the Orbitor in action on the WEVA show floor for this WEVA NEWS MINUTE video. Click Here! (Allow for QuickTime download).

Distributed by Ste-Man, the PAG Orbitor is based on a spring-loaded system designed to reduce fatigue and absorb camera shake. Professional accessories, such as remote controls, wireless mikes, and LCD monitors can be clamped to the unit.

The camcorder can be counterbalanced by a weight (supplied) mounted to the back-plate of the systemís adjustable shoulder pad assembly. Instead of the weight, a battery pack can be used, which will also power an on-camera light.

For more information on the PAG Orbitor and other products from Ste-Man visit www.ste-man.com

# # #

WEVA NEWS MINUTE videos and WEVA AUDIO FILE highlights are a professional development resource and service of the Wedding & Event Videographers Association International (WEVA). The largest trade association for professional wedding and event videographers, WEVA International is dedicated to advancing the professional interests of videographers worldwide through continuing education, technical support, group benefits, advocacy committees and professional development training. For more information regarding professional videography and WEVA International activities and membership, visit www.weva.com, or contact the association office at 941-923-5334 or email: info@weva.com

# # #

For a listing of all the Industry News Stories...
Click Here!