WEVA NEWS MINUTE: JVC's New HD Playback Deck
August 25, 2005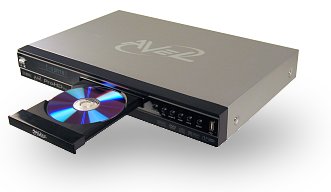 Sarasota, FL - At the WEVA 15th Annual Wedding & Event Video Expo JVC Professional Products exhibited their high definition playback deck, the SRDVD-100U ($399) scheduled for release this fall. JVC says itís the first HD deck that offers an economical way of viewing and distributing true HD recordings in a variety of file formats, including HDV's, MPEG-2, and Windows Media Video.

For this WEVA NEWS MINUTE, JVC's Ken Freed gave video producer Bruce Himmelblau a tour of the new deck and its capabilities from the JVC booth on the WEVA EXPO 2005 trade show floor. Click here to watch the video! (Allow for QuickTime download).

Freed noted that MPEG-2 Transport Stream (M2T) files created with HDV camcorders/NLEs can be saved onto a common recordable DVD disk using any commercial DVD recorder, and then played back on the SRDVD-100U.

The SRDVD-100U utilizes a standard red laser DVD player combined with a decoding engine compatible with popular HD file formats. With a 19 mbps file (HDV 720 progressive mode) JVC says you can store up to 30 minutes of full HD programming on a 4.7GB single layer disk, and up to 60 minutes on a dual layer disk.

When the DVD is inserted into the SRDVD-100U, a list of files appears on the HD display screen. You can select the file you want and begin viewing on an HD-capable monitor, plasma or LCD display. JVC says it even improves the playback of SD recordings by upconverting them to HD.

JVC notes the Windows Media file format offers higher compression levels, providing longer recording times on a DVD disk. Some NLEs provide WMV9 output, making it easy to create DVDs with up to 2 hours of HD content.

Besides DVD, other media types are supported via the SRDVD-100Uís front panel USB 2.0 connector. You can view files stored on solid state memory from a digital still camera, or from external hard disk drives. The SR-DVD100U supports most media types including USB Memory Stick, I-O Data HDD products, and any FAT16/32 storage device or card reader.

A standard DVI connector is provided (with HDCP compliance), which allows playback of commercially recorded DVDs. When viewing on a high definition monitor, standard definition DVDs are up-converted to HD to provide the highest image quality possible when using a DVI equipped monitor.

The SRDVD-100U is exclusively distributed by JVC, and is manufactured by I-O Data Device USA, Inc. (San Jose, CA). For more information visit the SRDVD-100U Information section on the JVC Professional Products website.

# # #

WEVA NEWS MINUTE videos and WEVA AUDIO FILE highlights are a professional development resource and service of the Wedding & Event Videographers Association International (WEVA). The largest trade association for professional wedding and event videographers, WEVA International is dedicated to advancing the professional interests of videographers worldwide through continuing education, technical support, group benefits, advocacy committees and professional development training. For more information regarding professional videography and WEVA International activities and membership, visit www.weva.com, or contact the association office at 941-923-5334 or email: info@weva.com

# # #

For a listing of all the Industry News Stories...
Click Here!