WEVA NEWS MINUTE: Bodelin Demos 'ProPrompter'
August 24, 2005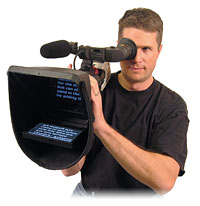 Sarasota, FL - Innovative products on the show floor of the WEVA 15th Annual Wedding & Event Video Expo included the mobile ProPrompter Teleprompter that attaches to DV camcorders.

Bodelin Technologies' Peter White explained how the ProPrompter works to producer Bruce Himmelblau for this WEVA NEWS MINUTE video. CLICK HERE! (Allow for QuickTime download.)

The ProPrompter comes in two packages: ProPrompter™ PocketPC with included prompting software and ProPrompter™ LCD for use with a composite video feed from a computer with existing prompting software.

Hailed as "The first PocketPC-based teleprompter" the ProPrompter™ works with internal focus lenses only, and includes a studio-quality Beamsplitter glass that is designed to turn a PocketPC into a bright, easy-to-read text scrolling device for on-location shoots or studio production work.

The ProPrompter LCD kit includes the ProPrompter mirror system, 6.5" LCD, AC power adapter, composite video connection cable and fits in a custom hard shell case. It has a 100mm opening and comes with an 85mm step-down ring. Bodelin sells other step-down rings to fit most any lens.

The ProPrompter LCD can be used with prompting software you already own or the company's own ProPrompter 2.0 software ($99 for the Basic version and $199 for the Advanced - available in both Windows and Mac versions). For more information visit Bodelin Technologies.

# # #

WEVA NEWS MINUTE videos and WEVA AUDIO FILE highlights are a professional development resource and service of the Wedding & Event Videographers Association International (WEVA). The largest trade association for professional wedding and event videographers, WEVA International is dedicated to advancing the professional interests of videographers worldwide through continuing education, technical support, group benefits, advocacy committees and professional development training. For more information regarding professional videography and WEVA International activities and membership, visit www.weva.com, or contact the association office at 941-923-5334 or email: info@weva.com

# # #

For a listing of all the Industry News Stories...
Click Here!