National 'Capture Cinematic Weddings' Filmmaking Workshop Launches
November 10, 2014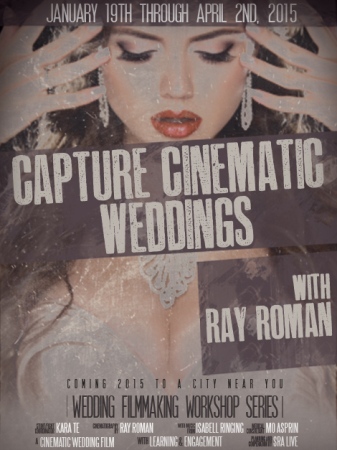 Sarasota, FL - Ray Roman, of Ray Roman Films, is taking his celebrity-endorsed filmmaking skills directly to his industry peers. Starting in 2015, he will be teaching a coast-to-coast In-Depth Seminar and Master Class Series to help aspiring and established videographers improve their skill sets, develop and promote their personal brands, and obtain better paying clients.

The new Capture Cinematic Weddings Workshop Series kicks off January 19-20 in Dallas, TX. WEVA is co-sponsoring the cross-country tour, which will travel to 28 cities in the U.S. and Canada. All WEVA members receive reduced-cost registration for the In-Depth Seminars and Master Class Series.

Acclaimed for his artistry nationally and internationally, Ray has filmed weddings for numerous high-profile clients, including NBA All-Star Chris Bosh and the highly-publicized $10 million Redwood Forest nuptials of social media mogul Sean Parker. Watch the tour trailer at CaptureCinematicWeddings.com.

"The Seminars cover everything from an introduction to lighting and bride preparation to gear exploration and ceremony versus reception coverage," said Thomas Starks, Media Representative for Ray Roman. "We hold all-day filmmaking and editing Seminars in 22 of the cities. Additionally, each of the 28 cities features an all-day Master Class."

The "Capture Cinematic Weddings" Workshop Series has two pricing tiers. Both the In-Depth Seminars, and Master Class Series can be selected separately. For more registration details and tour information visit CaptureCinematicWeddings.com.


About WEVA International

As the worldwide trade association for professionals who film weddings and events, WEVA leads with education that's on the cutting-edge of new trends and technologies in our industry. WEVA members enjoy exclusive access to cost-saving benefits and professional development resources. Become a WEVA member today at https://www.weva.com/join/index.php. For more information email info@weva.com and find WEVA on facebook. Follow @WEVAnews on Twitter.