New WEVA Member Benefit From Zacuto Offers Summertime Savings
June 04, 2014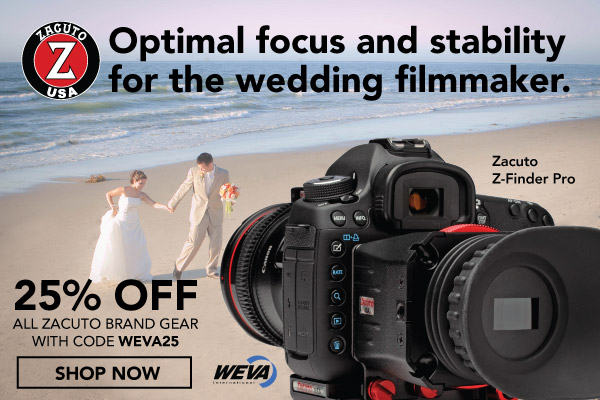 Sarasota, FL - The newest member benefit for the WEVA community this summer is a sizzling offer from Zacuto! Members can now take 25% off all Zacuto brand camera accessories at the Zacuto Store using coupon code WEVA25. The discount for WEVA members can also be applied to prices on Zacuto brand products marked down for clearance.

Heighten precision and focus with a DSLR Z-Finder Pro viewfinder. Stay stable and in control with a collapsible run'n'gun rig like the Marauder – lightweight and perfect for travel. Explore Zacuto's wide range of accessories including electronic viewfinders, follow focus, universal Half Cage and more.

This exclusive WEVA discount coupon is valid for any listed price shown on Zacuto brand products at the Zacuto Store now through August 31st, 2014. It's valid on Zacuto brand products only. Cannot be combined with other coupons.

"We're thrilled to bring this special offer to the WEVA International community. We strive to create high-quality accessories to support the modern storyteller." – Zacuto

Zacuto's made in the USA products are designed by filmmakers, for filmmakers. Zacuto products are backed by a lifetime warranty and the best customer service team in the industry. Innovate, inspire and create with Zacuto camera accessories.


About Zacuto

Zacuto USA - filmmaking accessories manufacturer - with sales and rentals located in Chicago, Illinois, opened in 2000 primarily as a rental house and is now known for their Zacuto USA brand of extremely high quality, originally designed camera accessories. Zacuto USA products are designed, manufactured and assembled in the USA. Designers Jens Bogehegn, and Steve Weiss have over 53 years of combined film, video & photographic experience. Known around the world for designing gear that is universal between cameras and quick releasable. Zacuto USA takes cameras and transforms them into whatever you need them to be, for any kind of shooting application. Zacuto was the first to recognize DSLR as a revolutionary game changer. Our camera kits and dslr optical viewfinders set the standard within the industry. Visit Zacuto at www.zacuto.com and follow @Zacuto on Twitter.


About WEVA International

As the worldwide trade association for professionals who film weddings and events, WEVA leads with education that's on the cutting-edge of new trends and technologies in our industry. WEVA members enjoy exclusive access to cost-saving benefits and professional development resources. Become a WEVA member today at https://www.weva.com/join/index.php. For more information email info@weva.com and find WEVA on facebook. Follow @WEVAnews on Twitter.