Register Now for Vincent Laforet's Directing Motion 32-City Tour
April 30, 2014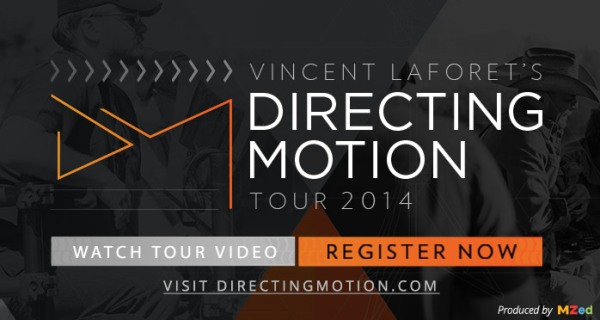 Sarasota, FL - Vincent Laforet, DGA and ICG Director, is launching his nationwide Directing Motion Tour 2014 for filmmakers on May 6 in Philadelphia, PA. The full-day course will be comprised of a 6-theme daytime workshop, followed by an evening applied theory seminar.

And, this spring and summer, Vincent Laforet's Directing Motion Tour 2014 will hit 32 major cities in just 9 weeks. WEVA members receive discount registration, plus an exclusive Bonus Discount on instructional DVDs for filmmakers through MZed (see WEVA email blasts for further discount details).

Laforet will offer his expertise to filmmakers working at various levels on how to effectively execute their vision, and enable filmmakers to transmit a visual language that will elicit an emotional connection and response from audience members.

The techniques can be applied to any project such as short films, events and documentaries. The principles taught by Laforet will provide unique, ground-breaking, and competitive insight that will not only be taught in theory, but will engage attendees with live demonstrations using some of today's most advanced cinema technology.

Known for his avant-garde approach to filmmaking and storytelling, Laforet believes "that motion is critical but only when it serves the story." His extensive study and knowledge of camera motion is imperative for those who want to enhance their filmmaking skills.

Reverie, a Laforet directed short film was the first to be shot with the Canon 5D Mark II. Later, Laforet was chosen as one of the first filmmakers to shoot with the Canon C300. He has been a cinematographer and director for clients such as Sony, Adobe, Pepsi, Nike, and more.

Vanity Fair, The New York Times Magazine, National Geographic, Sports Illustrated, Time and Life Magazine are a few of the publications that have commissioned Laforet's work. In 2010, Laforet was a 3-time winner of the Cannes Lions International Advertising Festival. He is considered a pioneer in the field of HD-capable DSLR cameras and is renowned for his innovative tilt shift and aerial photography.

To watch the Tour trailer, view Tour dates, and sign up, visit DirectingMotion.com.


About WEVA International

As the worldwide trade association for professionals who film weddings and events, WEVA leads with education that's on the cutting-edge of new trends and technologies in our industry. WEVA members enjoy exclusive access to cost-saving benefits and professional development resources. Become a WEVA member today at https://www.weva.com/join/index.php. For more information email info@weva.com and find WEVA on facebook. Follow @WEVAnews on twitter.