Register Now for The DSLR Dynamics Video Visuals Tour
October 02, 2013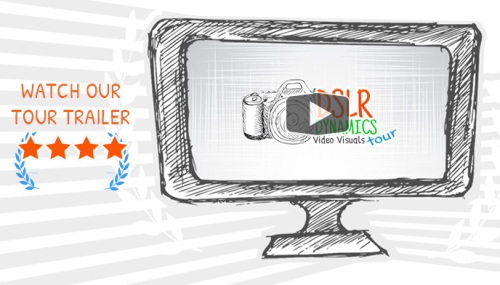 Sarasota, FL - The new DSLR Dynamics Video Visuals Tour is bringing in-depth tips, tricks, and insider knowledge to 30 major cities in the US and Canada this fall. This workshop empowers attendees to shoot professional quality videos, perfect for weddings, live events, corporate projects, and more. Aimed at filmmakers wanting to take their craft to the next level and photographers looking to learn the art of creating the look & feel of moving images.

WEVA members can use their special WEVA discount code to take 15% off registration (or take 15% off any open market registration discount offers for the DSLR Tour), plus members can also take 15% off purchase of the optional DSLR Dynamics Tour DVD.

Watch the Tour trailer here.

DSLR Dynamics Video Visuals will equip filmmakers with superior knowledge and tools, enabling them take greater control over their creative projects and consistently deliver more impactful films.

Two Programs, One Day

Attendees will depart with the knowledge and tools necessary to take greater control over projects and consistently deliver powerful videos. DSLR Dynamics Video Visuals is composed of two intense educational programs to help cover all the stages of filmmaking.

FILMMAKING AND VIDEO

Filmmakers will learn critical skills for handling cameras and lenses, as well as how to add motion to enhance their scene's emotional impact. Improving lighting and sound quality will become second nature by the end of the course.

EDITING AND POST-PRODUCTION

In this in-depth workshop, attendees will identify and correct common issues that can be fixed in post production, as well as explore capturing their desired look and feel.

Instructors

Video Visuals will be taught by two award-winning instructors:

Barry Andersson is the author of a top-selling Amazon book for DSLR video/filmmaking THE DSLR FILMMAKER'S HANDBOOK, regular instructor for many NFL, NBA, MLB & NHL production crews, and he speaks at top filmmaking schools. In addition to his education experience, Barry works with television series, shoots commercials for Fortune 100 companies, and has shot a feature film.

Mitch Aunger (PlanetMitch) runs planet5d a highly-ranked site producing both blog and video reports on topics vital to the HDSLR community. He also interviews industry leaders via his popular planet5D podcasts and is the producer of "Incident On Marmont Ave."

Registration

Visit the DSLR Dynamics site www.DSLRdynamics.com to check the Tour city-stops nearest you and register now.

About planet5D

planet5D is often recognized as the leading community on the planet for the DSLR video revolution. Over the last 5 years, the planet5D blog has grown to over 2,300 news posts as well as several hundred reviews and interviews with industry leaders. planet5D has also recently acquired and integrated the massive cinema5D forum community, containing over 32,000 members, into the planet5D universe.

About Barry Andersson

Barry Andersson has done live sports broadcasts, television shows, web series, commercials for such companies as Old Dutch, Tom's, Dell and Baylor University, several acclaimed short films, a feature film, and even originally got started in weddings. Barry has worked in the independent world, with top tier Hollywood casting agents, and with well-known SAG talent alike. He even wrote a top-selling book on DSLR Filmmaking & Video.


About WEVA International

As the worldwide trade association for professionals who film weddings and events, WEVA leads with education that's on the cutting-edge of new trends and technologies in our industry. WEVA members have exclusive access to cost-saving benefits and professional development resources. Become a WEVA member today at https://www.weva.com/join/index.php. For more information email info@weva.com and follow WEVA on facebook. Follow WEVA industry news on twitter.