WEVA EXPO 2011 Expands as "The Digital Imaging SuperShow" LIVE Online on October 5-6; Bruce Aldrich Joins WEVA Team
June 22, 2011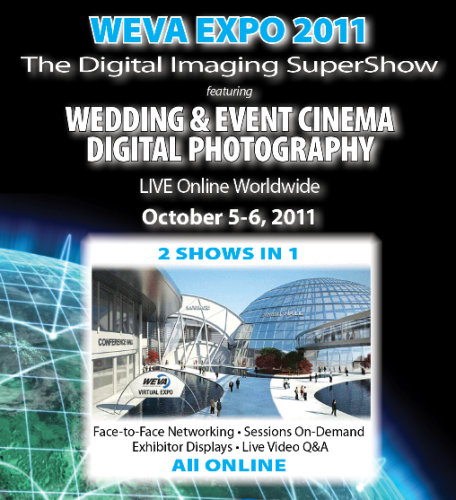 Sarasota, FL - The 21st Annual WEVA EXPO LIVE Online has expanded to include the world of digital photography. On October 5-6, WEVA EXPO 2011 will present "The Digital Imaging SuperShow" featuring Wedding & Event Cinema and Digital Photography – 2 shows in One - LIVE Online Worldwide. And, presented at WEVA EXPO 2011 will be the WEVA 21st Annual Creative Excellence Awards honoring outstanding creativity in weddings, events and corporate productions. Enter your best work now.

LIVE interactive video, including the opportunity for face-to-face networking with attendees, speakers, and exhibitors will be an exciting key element of WEVA's second online conference & trade show. The WEVA iVideoShow in February 2010 was the first-ever online conference and trade show dedicated to our industry, but did not offer LIVE face-to-face networking, language translation for sessions, or Video-conference chat capabilities. WEVA EXPO 2011 incorporates these new video and IT developments, and now Digital Photography in the new Digital Imaging SuperShow coming this fall.

"New IT enhancements continue to advance professional development education by making it more accessible and more affordable for our industry on a global level," said John Zale WEVA's Director of Educational Development. "Programming for WEVA EXPO 2011 including new developments in 'digital fusion' technologies, DSLR, HD, audio, editing, 3D, and more, is no longer bound by the restrictions of the walls and rooms of a physical convention hall and its geographic location. Especially important to professionals working at many different levels of expertise."

Zale adds there will be conference sessions specifically for seasoned veterans as well as beginners. Exhibit displays will feature video presentations and instant tech downloads, EXPO-only discounts, and live interaction with EXPO exhibitors/sponsors.

"In just the past year, new IT and online video advancements have opened huge new doorways. We're seeing an epic leap forward in new educational opportunities for our industry worldwide. WEVA is excited to be making the new advancements accessible and affordable to all professionals, whether they are part-time, full-time or just getting started, and no matter where they are located. Everyone knows the economy has affected travel budgets. Not everyone can fly to a convention and be away from home or work, but education is still needed, and all industry professionals are online."

Bruce Aldrich Appointed as WEVA Executive Sales Director

In announcing the addition of Digital Photography to WEVA EXPO 2011 LIVE Online, WEVA also announced the appointment of top imaging association veteran, Bruce Aldrich as WEVA EXPO 2011 Executive Sales Director (baldrich@weva.com).

Formerly the Senior Operations Officer/Deputy CEO for PMA, the worldwide photo marketing organization, Aldrich brings his tremendous photo world knowledge, experience, and vision to WEVA EXPO 2011 The Digital Imaging SuperShow LIVE Online. WEVA has previously teamed with PMA for digital imaging conferences and educational events, nationally and globally.

"We are thrilled to welcome Bruce Aldrich to WEVA and the WEVA EXPO 2011 Digital Imaging SuperShow LIVE Online," said WEVA International chairman Roy Chapman. "WEVA had the distinct pleasure of working closely with Bruce for several years during his tenure at PMA. We are excited to have his vast industry knowledge and exceptional marketing and management skills on-board for WEVA EXPO 2011."

Aldrich joins WEVA's worldwide team of industry leaders already working to make new education, technologies, exhibits, system-training, and LIVE face-to-face networking accessible to thousands of event filmmakers and digital imaging professionals around the globe October 5-6, 2011.

Uniting Event Filmmakers & Digital Imagers Worldwide With LIVE Interactive Video

In conjuction with WEVA EXPO 2011, the "Call For Entries" in the 21st Annual WEVA 2011 Creative Excellence Awards Competition (CEA) was recently announced. Deadline for all entries is 5:00 pm July 22. "Entries are already being received, and with EXPO being LIVE Online in October, this is an excellent year to enter your best work," Zale said.

"There is an all-new Panel of CEA Judges every year, and you never know who is going to enter. The Competition is open to all industry professionals worldwide. There are 16 categories, and you can enter up to 2 entries in each category. If you value your work, believe in your creativity, and want the chance for the highest honor and recognition in our industry, then you should enter the 2011 WEVA Creative Excellence Awards Competition before the 5pm deadline July 22."

For the first time in history, Zale notes, WEVA EXPO 2011 will be an immersive experience uniting event filmmakers and digital imagers on a global level with LIVE video interaction between speakers, attendees, and sponsors/exhibitors. Presentations will use the cinematic tools of our industry in creating an all-new EXPO program custom-tailored for interactive participation and system-training LIVE Online.

"Call for EXPO Topic Proposals" – Enter Your Topics for Speaking Now

"WEVA EXPO 2011 is like the WEVA iVideoShow on steroids," said Zale. "Sessions will feature language translation. Social media and video will be full-throttle. Proposal submissions from industry professionals for Featured Speaker presentations are already being accepted by WEVA at www.weva.com/proposals. Professionals should enter proposals now," Zale said.

WEVA EXPO 2011 LIVE Online Worldwide Will Feature:

* Keynotes

* Sessions On-Demand (conference registrants can attend ALL Sessions)

* Live Q&A with Featured Speakers (multilingual translation)

* WEVA 2011 Creative Excellence Award Winners & Screenings (winners announced over both days)

* Interact with Exhibitors (Show-Only Discounts)

* Roundtables

* Networking

* Free Door Prize Drawings

Zale notes that, "instead of just texting, attendees can choose LIVE interactive video for networking and showing clips to one another. Attendees and exhibitors can flip on webcams to meet face-to-face LIVE, on large-screen TV displays, even meet in video conference-style groups with all faces LIVE on-screen at once.

"During the WEVA EXPO 2011 Conference Sessions," Zale adds, "leading wedding & event filmmakers and digital imagers from around the world will share a ton of on-location footage and behind-the-scenes B-roll to show new techniques in detail, and HOW they achieve breathtaking creativity.

"Exhibitors will be able to use LIVE video to demonstrate cutting-edge technologies and all-new gear. It's the first time suppliers, event filmmakers and digital imagers from around the globe will be uniting simultaneously via LIVE online video. The 21st Annual WEVA EXPO will be a 21st century breakthrough for our industry nationally and worldwide."

EXPO-To-Go

WEVA EXPO 2011 will be at your fingertips for two full days, and completely portable. You can attend using your mobile device, laptop, desktop, or large-screen display, and without having to leave home or work.

Multi-track programming will feature Conference Sessions for wedding & event filmmakers and digital imagers covering new cameras and camerawork, new DSLR techniques, marketing & selling, edit system training, workflow, audio, lighting, concept videos, special events, Same Day Edits, and more.

WEVA EXPO 2011 will be presented on Pacific Coast hours. EXPO Trade Show admission will be free with advance registration. Standard Conference Registration will be $159, which includes both days and all sessions and a new WEVA App specificially developed to archive EXPO content for on-demand access after the LIVE show closes. Those joining WEVA now, and WEVA members who are renewing or extending their annual WEVA membership receive Full-EXPO Conference & Trade Show registration free as an additional benefit of membership.

For Exhibitor Information regarding WEVA EXPO 2011 The Digital Imaging SuperShow, please contact Bruce Aldrich, Executive Sales Director at baldrich@weva.com or call direct at 517-990-4028 or contact the WEVA office at info@weva.com or 941-923-5334.


What Wedding & Event Filmmakers Said About the Live Online WEVA iVideoShow 2010

John Kerfoot: Awesome. Do it again.

Teddy Salido: Already browsing around and meeting fellow videogs. fun event.

David Notowitz: It was excellent. Lots of people were talking! I captured some of the online group chats to read at my own pace.

Maribeth Kocimski Ratajczyk: Excellent use of tools. I am benefiting from it and I am grateful. THANK YOU.

Dan O'Hara: I learned some great tips! Awesome!

Adam Forgione: The concept was very innovative. It was a very cool experience. Networking/chatting was a blast with so many familiar peers.

Michael Jensen: Great job! I hope to see the iShow again in the near future.

Ramona Lynne: Thank you so much for the WEVA iVideo conference. It was fantastic. Looking forward to the next iVideo.

Gabriel Paz: Congratulations on the success of today!

Alan Paul Naumann: Thank you for your leadership in the world of event videography. Things change so quickly that it's hard to keep up - so the information you provide is invaluable. I really liked the Online Expo - a forshadowing of things to come?

Mark Goldberg: I learned a lot from today's presenters. This was a great learning event.

David Bauers: Great show, just two complaints. Not enough restrooms and the food court sucked. Otherwise great job!

Julie Blanco Conroy: I was on all day long. Loved it!

Jose Ortiz: This is very Cool. I like it!

Oscar Dominguez: Great show, congratulations! When is the next one?

Cali Hlavac: That was awesome! Thanks so much!

Angel Menendez: Great show!

Kim Owen: Thank You....!

Aaron Olsen: I learned a ton! It was awesome = )

Sharon Frost: That was very good. Thanks very much!

Ted Nguyen: Very nice job on today's expo.I picked up a lot of useful and helpful "nuggets" today. Looking forward to the next one if WEVA does it again.

Gonzalo Fanny: It was Great, learned a lot...Thx again

Rodolfo Vazquez: Great job!

Wendi Koble: It was awesome!! Thanks so much!!

Steve Cureton: You all did a very great thing - thank you.

Leon Johnson: Thanks for a great iVideo today. I didn't miss that plane ride at all. Lots of great information that helped me to think outside the box.


About WEVA International

As the largest Association for professional wedding and event filmmakers, WEVA leads the field with education that's on the cutting-edge of industry developments and new technologies worldwide. WEVA members have access to exclusive business benefits and professional development resources. For more information on WEVA industry events, and WEVA membership benefits email info@weva.com or click here. Follow WEVA on twitter and facebook.