WEVA's 'Power of Video' to Debut in Europe June 9th
May 18, 2007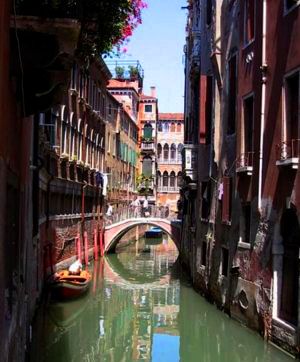 Sarasota, FL - "The Power of Video & How to Get More Business Using It" the new marketing program for videographers and wedding professionals developed by the Public Relations Committee of Wedding & Event Videographers Association International (WEVA), will have its European debut next month in Venice, Italy.

Headlining a special program for wedding professionals hosted by internationally renown consultant Jayne Seddon of Venice Events on June 9th, "The Power of Video's" featured speaker will be Kris Malandruccolo, Chairperson of the WEVA Public Relations Committee, a WEVA EXPO presenter, and owner of Elegant Videos by Kris (IL). To attend the program, which will be held at 5:00 p.m. at Venice Events 1827 Frezzeria, San Marco, Venice Italy, please RSVP to Jayne@veniceevents.com to reserve seats. The program is free of charge to all bridal industry professionals.

"Bringing WEVA's 'Power of Video' to Europe in June is an exciting opportunity for WEVA to share cutting-edge concepts in video marketing with wedding professionals on an international level," said Malandruccolo. "It's in-sync with WEVA's expansion of programs for our fellow members worldwide, including the first-ever WEVA conference series for wedding and event videographers in the Asia-Pacific region that was held this month at PMA-Australia 2007.

Marketing With Video

As reported in Wedding & Event Videography Resource Guide, the WEVA Public Relations Committee, which also includes Al Ritondo, Personal Touch Video (NJ); Natalie Neal, Glass Slipper Productions (PA); and Mike Nelson, Remember When Video Productions (UT), has spent the better part of two years developing Phase I & Phase II outreach programs that either directly benefit the WEVA membership, or are meant to promote the benefits of professional video to the wedding industry at large.

"The Power of Video & How to Get More Business Using It" a Phase II program developed by the PR Committee, includes a new video PowerPoint presentation aimed at wedding industry businesses, including consultants, caterers, florists, DJs, consultants, as well as videographers. Featuring exciting clips from WEVA Creative Excellence Award-winning wedding videography, the PowerPoint program brings industry affiliates up to speed on state-of-the-art wedding video creativity. It also shows how individual vendors within the bridal industry can use professional video to promote their own businesses.

Over the past several months, WEVA PR Committee members have been "on the road" presenting the "Power of Video" to bridal industry organizations and local videographers associations. Al and Kathy Ritondo (whose popular WEVA podcasts cover local association developments) have presented the program to local videographers associations in New York, Connecticut, and Florida. Malandruccolo has presented the program to videographers in Minnesota and Colorado and to bridal organizations such as the Association for Wedding Professionals, International (AFWPI), and others.

How It Got Started

In Phase I of their strategic marketing initiative, the WEVA PR Committee set out to bolster the marketing abilities of fellow WEVA members by creating an exclusive step-by-step program for developing relationships with local wedding planners. This brand new networking initiative, Take a Bridal Consultant to Lunch launched in the winter of 2005 and explained step-by-step how to find, contact, and arrange informative meetings with local planners.

The committee's special Lunch Kit included contact lists, phone scripts, wedding video presentation tips, and conversation starters. The innovative kit (free to WEVA members) also includes important wedding video research from WEVA's Nationwide Survey of Brides, and the U.S. News & World Report article advising today's bride to Tell Uncle Bob To Leave His Camcorder Home along with other materials videographers can use to help further educate consultants and their clients on the value of professional wedding videography.

WEVA's "Power of Video" presentations are continuing through 2007. If your local organization is interested in seeing this inspiring program, contact Kris Malandruccolo at Kris@ElegantVideosbyKris.com or Dan Argenas WEVA International's Director of Association Communications at da@weva.com.