APM Unveils Landing Page for New Music Licensing Breakthrough Program
April 09, 2012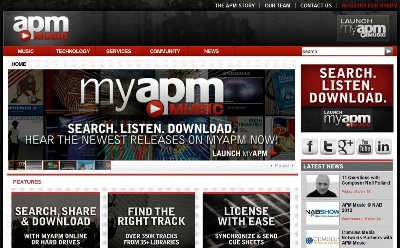 Hollywood, CA - The new music licensing breakthrough for WEVA members, created by APM Music, Hollywood's go-to music source and North America's leading production music library with over 350,000 tracks, can now be directly accessed on the APM Music site here.

Recent APM credits include "Bridesmaids," "The Hangover," "Boardwalk Empire,""Glee," "30 Rock," "The Good Wife" and sports programming including NFL, ESPN, MLB and PGA.

Use the Same Production Music Hollwood Uses

With recent legalities still swirling over the use of copyrighted music in wedding films and event productions, APM's program for WEVA members is a unique solution for obtaining the same top-quality production music used by Hollywood studios and major networks at a substantial discount -- including unlimited songs "per event" with no event minimum, and no advance payment required.

All APM tracks are licensed for perpetual use, and also licensed for up to 1,000 DVDs. WEVA members and others can check out all the music, even insert songs on their own edit timeline to "try before buying."

The discounted licensing rates, available only to current WEVA members, are based in a 3-tier structure that requires no up-front commitment, as follows:

1) $65 per event – No Event Minimum Required. Unlimited Songs per event.

2) $60 per event – 10+ Event Commitment. Unlimited Songs per event.

3) $40 per event – 20+ Event Commitment. Unlimited Songs per event.

Many WEVA members find they often want or need to use several tracks of production music to finish a single event. Licensing on a "per event" basis allows members to use an unlimited number of APM tracks in producing a single wedding for example, including as many separate tracks as desired for coverage of the bride's house/groom's house, pre-ceremony, photomontage, ceremony, park scenes, reception activities/ interviews, wedding highlights, honeymoon coverage, and even SFX.

Unlimited Creativity With Music for Weddings & Events

APM's more than 350,000 tracks (and playlists) are available now. APM's "No Commitment, No Event-Minimum" option means WEVA members can start today with just one event, and use unlimited songs at $65. If you do more than 20 events, no additional commitment is needed. The fee per event is still $40/event. WEVA members are not bound to a subscription plan -- you pay for each tier as you go.

"It's exciting to announce this brand new program developed exclusively for WEVA members that not only allows licensing of APM Music tracks at a substantial discount, but also allows unlimited tracks to be used on a 'per event' basis instead of a 'per song' basis. It opens the door to a whole new realm of production originality and music creativity -- unlimited!" said WEVA Chairman Roy Chapman.

"When we reached out to WEVA, they had already been looking into ideas for music licensing awareness and together we quickly came up with the idea of introducing a special program for event videographers. The goal is to encourage the idea of using music legally and simplifying the process to do so," comments Adam Taylor, President of APM Music. "It is a win-win solution to a big problem of unlicensed music in the event world."

Top composers accessible through APM include: David Arkenstone * John Barry * Tal Bergman * Brian Brasher * Sam Brown III * David Buckley * John Cacavas * Mark Cousins * Hal David * Martin Lord Ferguson * Emmanuel Fratianni * Patrick Hawes * Mars Lasar * Carmen Lundy * Dave Robidoux * Laurie Robinson * Serj Tankian to name just a few. Visit APMmusic.com to see more featured composers or artists. Watch the APM sizzle reel on YouTube.

With over 35 diverse libraries, APM Music has the most comprehensive collection in the industry -- over 350,000 exclusive tracks on thousands of albums produced by the industry's most innovative, respected and admired libraries including KPM Music, Bruton, Sonoton, West One Music Group, and Kosinus. Additional niche music sources include ReverbNation, NFL Films Music Library, Epic Score, Discovery Studios Tracks, and more.

For more information, and instant access to listen to tracks, click here. There is no charge to access the music. For more information contact Bruce Amdur at bamdur@apmmusic.com or (323) 461-3211. Or contact WEVA at info@weva.com or 941-923-5334.

About APM Music

APM Music (a joint venture of EMI Music Publishing and Universal Music Publishing), the most comprehensive collection of original music available to entertainment and media producers, provides North American-based production clients with exclusive access to over 350,000 tracks of music produced specifically for use in film, television, radio, and new media productions. Some of APM's key clients include NBC, ABC, CBC, Corus, Fox, HBO, Showtime, ESPN, MLB, PGA, Universal, Discovery, Current TV, MTV, BBDO, Electronic Arts and thousands of others. For details, please visit www.apmmusic.com or its search engine at www.apmmusic.com/myapm, and connect with APM at www.facebook.com/apmmusic and www.twitter.com/apmmusic.

About WEVA International

As the largest Association for professional wedding filmmakers and event video producers, WEVA leads the field with education that's on the cutting-edge of industry developments and new technologies worldwide. WEVA members have access to exclusive business benefits and professional development resources. For more information on WEVA industry events, and WEVA membership benefits email info@weva.com or click here. Follow WEVA on twitter and facebook.