WEVA / Modern Bride Co-Promotion Expected to Reach Over 1 Million
October 05, 2005

Sarasota, FL - Last Friday, September 30, the Wedding & Event Videographers Association International (WEVA) and the Modern Bride Connection (MBC) magazine group of Fairchild Publishing, met at the Fairchild headquarters in New York to officially begin the launch of their first nationwide co-promotion of professional wedding videography.

Announced in July, and officially unveiled at WEVA EXPO 2005 in August, the new co-promotion with Modern Bride is expected to reach over one million brides.

Dan Argenas, WEVA's Director of Association Communications met with David Katz-Director of Advertising for Fairchild, Jennifer Dennis-Editor of Modern Bride Connection, Brenda Schmerl-Editor of Modern Bride Online, and the entire MB team at the Fairchild corporate offices in Manhattan to begin the launch.

"We had planned the meeting here in New York to review details for the print promotion including the creation of the WEVA ad for our MBC magazines and review the promotion graphics that will be uploaded to the Modern Bride website," said Katz.

"Getting Dan together with Jennifer Dennis and Brenda Schmerl, was crucial for us to meet our deadline for the next issues of Modern Bride Connection, and for announcing the Call for Entries for the co-promotion. During our meeting we accomplished a great deal and our team is confident that they are ready to make this a great program for our readers and for WEVA's professional videographers," Katz said.

"The launch of WEVA's new and exciting co-promotion with Modern Bride represents a huge milestone for our association," said Argenas. "At our meeting, I also had the pleasure of talking with Jennifer Cole, the publisher of Modern Bride Connection, who is very excited by the cutting-edge creativity WEVA members are producing, how WEVA members are leading the field,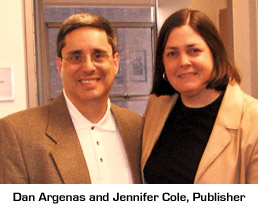 and in getting that message out to her readers nationwide."

The creative co-promotion, Argenas added, will open the door for WEVA's message to impact brides on a personal and entertaining level. "Taking the cue from our membership, the goal over the past year has been to foster and to strengthen relationships between our association and the major bridal media in order to help educate brides and increase their awareness of new trends in our industry and the value of professional wedding videography."

The new "Win A Wedding Photo Montage Video" co-promotion is a nationwide contest prospective brides can enter through Modern Bride Connection and Fairchild's online media starting this November. The contest will be promoted in all 17 regional issues of Modern Bride Connection, and on the Modern Bride website. Two winners will be chosen in 2006 from among the many "How We Met" essays entered. Each winning couple will receive a fully-edited, network-quality Photo Montage Video on DVD produced by WEVA members.

"We are extremely excited about the opportunity to work with WEVA and the association's talented professional videographers," said Katz. "We are confident that our readers will agree that Modern Bride always strives to present the latest, cutting-edge tools for them to make their wedding an event to remember, and this type of creative memory-maker video is one of those tools."

Applying creative visual artistry, the Photo Montage Video will feature a compilation of the prospective bride and groom's chosen photos tracing their life history and personal relationship as a couple. The winning couple, the WEVA member and the special video production will be featured in Modern Bride Connection and on the Modern Bride website.

The Fairchild Bridal Group, including Modern Bride Connection with its 17 regional publications in the country's top markets, has a total distribution of 1.6 million nationwide.

"Photo Montage Videos, which are often projected at wedding receptions, have become increasingly popular across the country. And, as seen by the winning video entries in the WEVA Creative Excellence Competition Awards every year, and at WEVA EXPO's annual BATTLE OF THE VIDEOGRAPHERS! series, our members have taken Photo Montage Videos to breathtaking levels of artistry and emotional impact," Argenas said.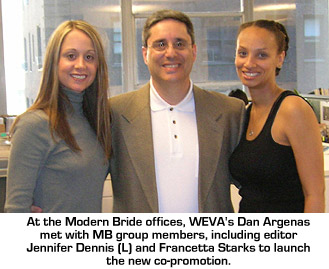 "We are very excited that this special stand-alone production, which has evolved into a unique category all its own, has been selected to kick off the first WEVA/Fairchild co-promotion in 'prime-time' this fall. A key reason WEVA holds its annual EXPO in the summer is to enable our members to be best prepared for the biggest period of wedding announcements, which traditionally begins over the Christmas holidays. The launch of the co-promotion was positioned to coincide with the start of the new wedding season," said Argenas.

Phase One of the co-promotion begins in just a few weeks with announcements in Modern Bride Connection and on the Modern Bride website. The first winning couple will be selected in February 2006, on Valentine's Day. Phase Two of the co-promotion will continue through 2006 to select the second winning couple.

"WEVA will be announcing a special "Nationwide with Modern Bride" Photo Montage Video Competition to select two WEVA members, including two runners-up, for this major media promotion. As previously announced, WEVA members who attended WEVA EXPO 2005 will be eligible to enter," Argenas added.

"From all of the exciting presentations unveiled at WEVA EXPO 2005, and the positive feedback our office has received, we know WEVA members returned to their studios with a whole host of awesome techniques and creative ideas in many different areas of video production," Argenas said. "We look forward to seeing the inspiring new work that will be generated, and increasing public awareness of the full range and value of creative video services that WEVA members offer as our association now begins the exciting launch of our first 'Nationwide with Modern Bride' co-promotion."

# # #

Wedding & Event Videographers Association International (WEVA), is the largest trade association for professional wedding and event videographers, and is dedicated to advancing the professional interests of videographers worldwide through continuing education, technical support, group benefits, advocacy committees and professional development training. For more information regarding professional videography and WEVA International activities and membership, including Wedding & Event Video Expo 2006 contact the association office at 941-923-5334 or email: info@weva.com