WEVA NEWS MINUTE Videos Now Organized for Faster Reference
June 05, 2005

Sarasota, FL - Got a minute? Click on a WEVA NEWS MINUTE video and get informed! Almost 20 separate clips featuring video of new DV/HD/HDV tools & technology, shot on-location at NAB 2005, are now posted all together in one location on the WEVA site for quick & easy online viewing.

"The response from members to the introduction of the WEVA NEWS MINUTE videos has been great!" said WEVA International Chairman Roy Chapman. "It's not so surprising--afterall, we're an international association of professional videographers. WEVA members are eager to see and learn about new video tools & technology and successful business strategies. This includes WEVA International's innovative use of new Video-on-the-Web applications that can help ensure a competitive edge for our members in what is becoming an increasingly competitive business," Chapman said.

The association's unique WEVA NEWS MINUTE video coverage of technology displayed at NAB has been produced by WEVA International member Bruce Himmelblau of Blue Sky Video and features quick, edited highlights (shot right from the show floor) of key products and technology for professional wedding & event videographers. Many of the videos are combined with informative, on-site interviews with manufacturer representatives.

The new WEVA NEWS MINUTE clips also include highlights of informative industry panel discussions aimed at video professionals who want to increase their corporate and industrial business, including "Secrets to Getting More Corporate Work." The Panel highlights (and other video segments) are posted on WEVA-TV the password-protected, members-only section of the WEVA website at www.weva.com.

WEVA International has also begun producing and releasing WEVA AUDIO MEDIA FILE
highlights for immediate online listening. Last week, audio highlights were uploaded from the special Bridal Industry Panel discussions that were organized and presented by WEVA International as part of this year's 7th Annual WEVA Town Meeting Tour.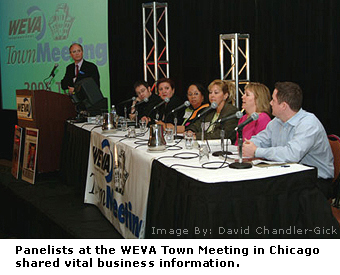 The Bridal Panel discussions were presented at each city-stop on the tour and featured national and regional bridal media editors, leading wedding consultants, and bridal industry association leaders.

Included were: Modern Bride Magazine, Perfect Wedding Guide, The Knot, "I Do" Magazine, WeddingPages Magazine, members from the ABC (Association of Bridal Consultants) and NACE (National Association of Catering Executives) as well as nationally-recognized members of WEVA International. To listen-in on Panel highlights, Click Here (and scroll down).

The WEVA NEWS MINUTE videos and new WEVA AUDIO FILE highlights are a professional development resource and service of the Wedding & Event Videographers Association International (WEVA). The largest trade association for professional wedding and event videographers, WEVA International is dedicated to advancing the professional interests of videographers worldwide through continuing education, technical support, group benefits, advocacy committees and professional development training. For more information regarding professional videography and WEVA International activities and membership, including the the 15th Annual Wedding & Event Video Expo (August 8-11, 2005), visit www.weva.com, or contact the association office at 941-923-5334 or email: info@weva.com