WEVA EXPO 2005 Exhibitors Filling Up Show Floor
May 29, 2005

Sarasota, FL - With the 15th-year WEVA EXPO (open to WEVA members and non-members) coming up on August 8-11, 2005, major video equipment manufacturers have already requested more exhibit space than last year to present free, system-specific training for professional wedding & event videographers on both DV, and new HD/HDV solutions.

"Fast and efficient workflow is critical for videographers--and for WEVA EXPO 2005 we have increased our exhibit space over last year to demonstrate how Canopus continues to respond to those needs with the release of our new products," said Kara Martin, director of marketing at Canopus. Martin related she especially likes the WEVA EXPO environment because, "At WEVA, we're interacting with professional wedding & event videographers who are among the most dedicated in the industry."

Apple is also increasing their exhibit space for WEVA EXPO 2005 to enable more computer workstation set-ups than last year so that more videographers can get hands-on FCP training, tailored to wedding & event work, right on the WEVA show floor.

Apple will also be presenting an all-new, multi-hour "Afternoon with Apple" workshop for wedding & event videographers on Monday, August 8 before the convention opens.

Starting around 1:00 pm, the special 4.5-hour Apple workshop will be free-of-charge to registered WEVA EXPO 2005 attendees (advance registration required/seating is limited) and will finish up just before the start of WEVA EXPO's Opening Night Gala and Creative Excellence Video Fest, which begins at 5:45 pm.

Adobe Systems, which last year had two separate exhibit spaces, will have one, all-encompassing exhibit space this year, and will include multiple computer workstations for direct, hands-on sessions with Adobe software.

Exhibits by Sony, JVC Professional Products, and Panasonic Broadcast will be spotlighting all new DV and HD/HDV technology, including high-definition cameras, recorders, and presentation systems. Professional wedding & event videographers will have their best opportunity of the year to compare systems and get answers directly from product managers and system engineers.

The WEVA EXPO 2005 Trade Show will be open for two days – August 9-10, 2005. Products and services scheduled for display are directly targeted to professional wedding & event work and can be purchased right from the show floor -- many through special "show-only" discounts that allow WEVA attendees to realize significant savings.

PARTIAL LIST OF ADDITIONAL EXHIBITORS

The diversity of exhibitors coming to WEVA EXPO 2005 with exciting products and services for professional wedding & event videographers is reflected in this partial list of WEVA EXPO 2005 exhibitors which, along with the companies mentioned above, already includes: Applied Magic, SmartSound Software, MacroSystem, Anton/Bauer, The DV Shop, Armato's Pro Video, Lectrosonics, B&H Photo-Video, Digital Juice, DeltaMedia, Chicago Digital Post, PixelPops, Grizzly Pro Video, IDX System Technology, Sound Ideas, Digital Hot Cakes, Samy's Camera, Creative Video Productions, Breakthrough Marketing, Vinpower Inc., Hoodman Corp., Azden Corporation, Unitek Video, Schneider Optics Century Division, TEM Associates, Bogen Imaging, IKAN, Edirol, Micro Research II, Sachtler USA, Neemann Media, Zaxwerks, Microboards Technology, National Video Tape LLC, SLIK Broadcast, Creative Video Products, Shining Technology and STE-MAN, Inc. More exhibitors will be announced later this week.

The increasing number of key video industry suppliers coming to WEVA EXPO 2005, will also be combined with prominent bridal industry organizations that will be exhibiting, including Modern Bride Magazine, The Knot, Perfect Wedding Guide, and others, making WEVA EXPO the biggest and most comprehensive convention and trade show worldwide for professional wedding & event videographers.

"Executives of the leading bridal media organizations are coming to WEVA EXPO to exhibit, participate in intra-industry seminar sessions, and see state-of-the art advancements in wedding video creativity nationwide. Like videographers, the executives at these influential bridal organizations, too, want to learn about the exciting changes occurring in our sector of professional video. And, they want to see how new high-definition technology and content will impact prospective brides throughout the country," said Dan Argenas, WEVA International's Director of Association Communications.

"Being the convention's 15th year means WEVA EXPO 2005 will be a hallmark event for our association and the professional wedding and event video industry at large," said Argenas. "Wedding and event videography has come such a long way since our first convention and trade show back in 1991. Since then, the EXPO has continued to have an enormous impact on videographers, manufacturers, and industry associates each and every year."

WEVA EXPO 2005, he related, will reflect this tremendous influence by featuring over 70 cutting-edge seminars, inspiring workshops, hands-on exhibits, special activities and demonstrations devoted to shooting, editing, marketing, and selling professional wedding & event videography.

To accommodate the show's continuing growth, and in honor of the association's historic event, WEVA EXPO has moved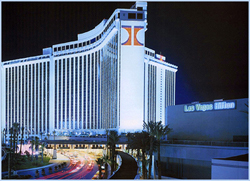 from Bally's Las Vegas to larger facilities at the internationally famous Las Vegas Hilton, one of the largest convention and resort hotels in the world.

Spacious guest rooms at the Las Vegas Hilton are currently available at a discount for WEVA attendees, but will sell out before WEVA EXPO 2005 opens. And -- rates will increase after the discount cut-off date. To avoid encountering higher rates, reserve guest rooms now!

The discount room rate at the Las Vegas Hilton for WEVA EXPO attendees and exhibitors is just $95/night (single/double occupancy; kids 18 & under stay free). Booked in advance, this special discount rate is also valid three days before and three days after the official WEVA EXPO dates.

To make room reservations, call the Las Vegas Hilton toll-free at 800-732-7117 or direct at 702-732-5111. Air fares to Las Vegas are available at low cost and do not require a Saturday night stayover to get the best price. Check Internet listings now for low-cost fares.

Program and registration details for WEVA EXPO 2005 will be posted online shortly at www.weva.com. General admission rates will be about the same as last year. "Wedding & Event Video Expo 2005 will be the industry's most exciting convention and trade show to date," said Argenas. It's a milestone event that professional videographers and industry suppliers won't want to miss!"

WEVA News is a service of the Wedding & Event Videographers Association International (WEVA). The largest trade association for professional wedding and event videographers, WEVA International is dedicated to advancing the professional interests of videographers worldwide through continuing education, technical support, group benefits, advocacy committees and professional development training. For more information regarding professional videography and WEVA International activities and membership, including the 15th Annual WEVA EXPO (August 8-11, 2005), visit www.weva.com, or contact the association office at 941-923-5334 or email: info@weva.com.