Call for WEVA EXPO 2005 Seminar Proposals
December 24, 2004

Sarasota, FL - With the announcement of August 8-11, 2005 as the official dates for the WEVA 15th annual Wedding & Event Video Expo, the association has also announced the Call for Proposals for those who would like to present a seminar or workshop at WEVA EXPO 2005, which will be held at the Las Vegas Hilton (www.weva.com/cgi-bin/newsreader.pl?op=render&type=o&storyid=2136).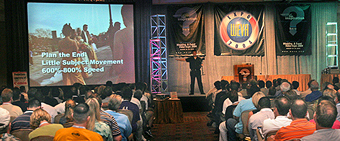 Submit your topic proposals now. The WEVA online proposal form makes the process quick and simple. Go to www.weva.com/proposals and click on the large, black box in the middle of the page to create your own personal log-in account. Once you are logged-in, just follow the prompts to submit your proposed topic(s).

Concerned that you won't be able to complete the proposal form in one session? Not a problem, as the new WEVA 2005 form has been designed to automatically save your text until you are ready to submit your proposal in final form. When you log-in you will be right back where you left off.

All topic submissions relating to any aspect of the business and production of professional wedding and event videography are welcome including: marketing, selling, business administration, shooting, editing, production creativity, graphics, audio techniques, special event production/marketing, DVD authoring (production, packaging, etc.) lighting, Internet matters, etc.

It's important to submit your proposal(s) as quickly as possible as programming decisions for WEVA EXPO 2005 are already underway. The resurgence of business and the explosion of new developments in professional wedding and event videography mean this year's special 15th annual EXPO is already projected to be WEVA's biggest convention and trade show to date, with many all-new presentations expected.

Each year, the WEVA Wedding & Event Video Expo, our industry's biggest convention and trade show, brings together professional wedding and event videographers from across the country and around the world. The continuing education, peer networking, hands-on demonstrations and activities are unsurpassed!

As in the previous years, programming for the upcoming 15th annual EXPO (August 8-11, 2005 at the Las Vegas Hilton-www.lvhilton.com) is based on member input. Log-in now at www.weva.com/proposals to get started!

The Wedding & Event Videographers Association International (WEVA) is the largest trade association for professional wedding and event videographers. The association is dedicated to advancing the professional interests of wedding and event videographers worldwide through continuing education, technical support, group benefits, advocacy committees and professional development training. For more information regarding professional videography and WEVA International activities and membership, including the WEVA Institute, the 7th Annual WEVA Town Meeting Tour, and the 15th Annual WEVA EXPO (August 8-11, 2005), visit www.weva.com, or contact the association office at 941-923-5334 or email:info@weva.com.