WEVA 14th Annual Video Competition Now Open
May 06, 2004

Sarasota, FL - The 14th Annual WEVA Creative Excellence Awards Competition, is now accepting entries! This year's competition features 13 separate categories for professional wedding and event videography. The Official Rules and Entry Form are now online at www.weva.com (click on WEVA Video Awards).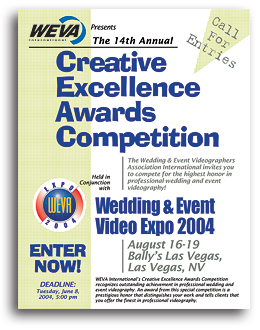 Deadline for all entries to be received by WEVA International is 5:00 pm, Tuesday, June 8, 2004.

Professional videographers are encouraged to submit their finest productions in the industry's most prestigious awards program. "The WEVA Creative Excellence Competition is open to all professional videographers worldwide, and always draws outstanding, breakthrough videos," said WEVA International chairman Roy Chapman.

The 2004 Competition's record-setting 13 categories include new, and newly-revised, categories, such as Wedding Highlights Production and Photo Montage Production. Other categories include Wedding Love Story, Corporate Event Coverage, Wedding Pre-Ceremony Production, Wedding Ceremony Coverage, Wedding Post-Ceremony Production, Wedding Reception Coverage, Concept Video Production, Wedding DVD Authoring, Wedding Short-Form Production, and Wedding Demo Production.

The complete list of all 13 wedding and event videography categories along with category descriptions, and the 2004 Competition Rules and Official Entry Form, are now downloadable as a PDF file on the WEVA website at www.weva.com (click on WEVA Video Awards).

"Every year offers a fresh opportunity to win a prestigious award from our industry's most exciting competition. Videographers using a wide variety of cameras and editing systems have won WEVA Creative Excellence Awards for the past 13 years. What they had in common was an artistic vision," Chapman said.

The 2004 winning entries will be announced and screened in a special "Opening Night Premiere" at the WEVA 14th Annual Wedding & Event Video Expo, Monday night, August 16, 2004, at Bally's Las Vegas. In addition, award recipients will be posted on the WEVA International website and published in Wedding & Event Videography, the official publication of WEVA International. Winning entries will also be inducted into the WEVA International Wedding & Event Videography Hall of Fame.

WEVA International is the world's largest trade association representing professional wedding and event videographers. The association is dedicated to advancing the professional interests of wedding and event videographers around the globe through continuing education, technical support, group benefits, advocacy committees and professional development training. For more information regarding professional videography and WEVA International educational conferences, activities, and membership, including WEVA EXPO 2004, visit www.weva.com, or contact the association office at 941-923-5334 or email info@weva.com.