New Videography Source for Brides!
July 27, 2001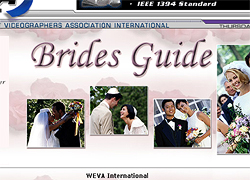 Sarasota, FL - The Wedding and Event Videographers Association, International (WEVA) announced a significant upgrade of its Brides Guide feature, one of the most popular destinations on the web site.

Easily found on the navigation bar at www.weva.com, the Brides Guide starts by offering shoppers some basic education about wedding videography. The site then goes further, giving brides the opportunity to post a request for information on the WEVA members-only bulletin board. The bride will then receive a number of responses via her private email. No telemarketers calling during dinner!

Whether or not the shopper is new to the subject of wedding videography, one can find useful information on the WEVA Brides Guide page. If you're looking for something fresh, there's an explanation of what today's video artists are doing regarding projection of tapes at wedding receptions. If you're something of a technophobe, the site explains the basics of coverage in uncomplicated terms.

According to WEVA Executive Director Roy Chapman, the popularity of the Brides Guide is easy to understand. "WEVA has given every bride a great tool to use in finding the videographer that's right for her. By simply posting her wedding information on the bulletin board, she will have WEVA member videographers contacting her immediately. She then has the luxury of choosing from among several local videographers. She doesn't even need to leave her phone number!" And for the bride searching for a videographer from outside of her immediate area, the WEVA's Brides Guide becomes even more useful.

So for current, fair and unbiased information about wedding videography, and for the chance to collect information from many videographers while sitting at the keyboard, the WEVA Brides Guide is the only option.