New WEVA Web Site Launched
August 28, 2001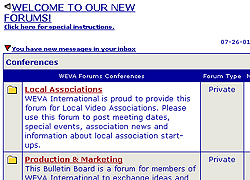 Sarasota, FL - In development for months, WEVA has announced the unveiling of its updated web site. "This is the first major upgrade since we went on-line originally," said Executive Director Roy Chapman. "It had to be done the right way!"



With an all-new look to the Forums, and updated features all around, the changed WEVA site will require a long couple of visits to appreciate the new functions. "The site was designed to be easier to use, but any change takes some time to get used to," Chapman added.



The WEVA Forums, the seven bulletin boards protected by a password, have been revamped, with ease-of-use being of utmost importance. With several different ways of viewing posts, and a variety of ways to sort the posts, the Forums will remain the most visited part of the entire site. There will be a seven-day transition period, where the old Forums will remain in place as the new Forums are activated. No new messages will be accepted on the old Forums during this time.



Still located at www.weva.com, the updated web site will offer more ways for members to stay informed on WEVA activities.