Stillmotion Teams with WEVA for 'Storytelling With Heart' 30-City Tour
January 15, 2014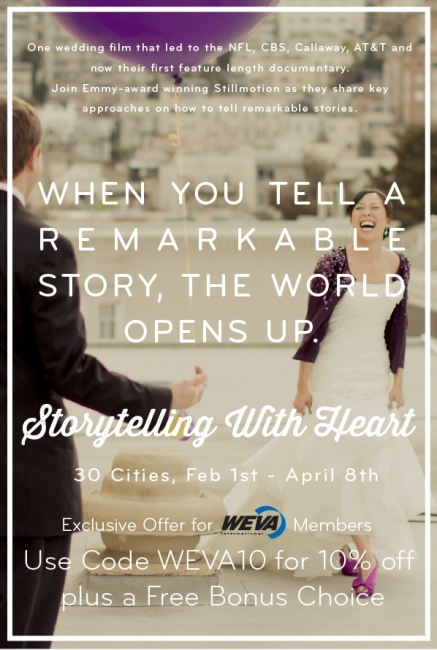 Sarasota, FL - As Stillmotion relates Storytelling With Heart "is a 30-city culmination of everything that has made it possible for us here at Stillmotion to go from a small wedding video business to an Emmy-winning production studio, exclusively telling commercial and original stories that we love — stories that we believe are remarkable."

The new nationwide tour begins February 3 in San Francisco, CA. Stillmotion has partnered with WEVA to provide all members an exclusive Bonus Offer. The special offer totals over $200 in savings available with single-person registration, and over $375 with two or more registrants.

In telling the story of how this remarkable new tour developed, Stillmotion says: "We've always invested ourselves in education, and after just wrapping up our first feature-length independent documentary, #standwithme, we stopped and asked ourselves: 'How did we get here?'

HOW did we go from doing wedding videos and barely getting by, to a much bigger team that works full-time to tell the stories we really want to tell?

The answer is this: it's all in the approach. Every step of the way we've faced our challenges as a studio with a specific set of approaches to filmmaking and storytelling that have pushed us to do more, to take risks, and to tell better stories.

Three major phone calls in Stillmotion history have brought us here: one from the NFL after watching a viral wedding film we shot entirely for free, one from CBS to shoot for our first feature doc, A Game of Honor, and one phone call that we made less than one year ago to a little girl's father in California. His daughter was selling lemonade to fight child slavery, and we had to tell her story.

All of our most memorable calls have been the result of doing things differently. We've crafted an approach to filmmaking that is unlike what so many studios are doing, because we are hell-bent on telling stories that can change the world.

Our creative directors Patrick and Grant are taking the lessons we've learned over the last 8 years on the road to share our experiences with filmmakers who want to tell stories they can believe in.

Storytelling With Heart is not for filmmakers who want to talk about gear and landing big clients. Storytelling With Heart is for filmmakers who want to stop using their talents to make videos they don't love, and start using their talents to tell remarkable stories. Each 8-hour workshop will be collaborative, intense, hands-on, and unique to every group.

Exclusive Bonus Offer for WEVA Members

We've put together a special Bonus Offer exclusively for WEVA. All WEVA members may use code WEVA10 for a registration discount and choose from one of three Stillmotion bonus packages when signing-up for the workshop. Put your selection of bonus offer in the notes field, and mark your calendar.

A camera will never see as clear as you. The light will never outshine your ideas. A lens will never replace your perspective. Remember that, and come to Storytelling With Heart ready to tell remarkable stories."


About Stillmotion

We're a small collection of curious, loud, trouble-making souls who believe that powerful stories can change the world. As a film studio, we're special in that we are a complete unit — not an assembly of strangers brought together for one project. We work together every day, we grow together, we love each other, and we know each other's weaknesses (see: cupcakes). We're cinematographers, producers, directors, writers, editors, and dreamers. While some of us specialize in certain areas more than others, we're all at the same level of brave. We take risks, we don't settle, and we eat a lot of cupcakes.


About WEVA International

As the worldwide trade association for professionals who film weddings and events, WEVA leads with education that's on the cutting-edge of new trends and technologies in our industry. WEVA members enjoy exclusive access to cost-saving benefits and professional development resources. Become a WEVA member today at https://www.weva.com/join/index.php. For more information email info@weva.com and follow WEVA on facebook. Follow @WEVAnews on twitter.