LIVE Video Q&A with WEVA BATTLE Challengers Dec. 8 at 3pm & 8:30pm ET
December 07, 2011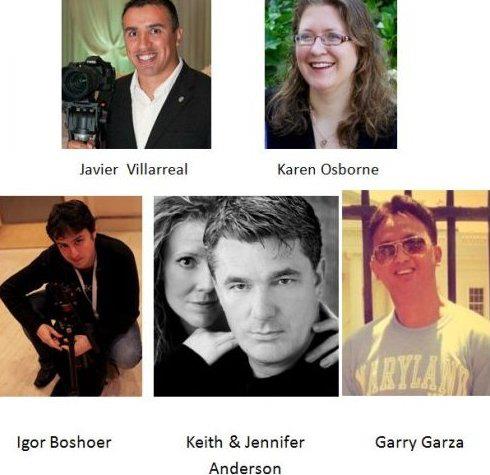 Sarasota, FL - WEVA EXPO 2011 "Battle of the Videographers - Wedding Trailer" Challengers will be taking questions in LIVE Video Q&A Thursday, December 8 on the WEVA EXPO 2011 Show site. Full-EXPO attendees can tune in at 3:00pm ET for Video Q&A with 2011 Challenger Karen Osborne, and at 8:30pm ET for Video Q&A with Challenger Javier Villarreal.

Both LIVE Online Sessions will be moderated by John Zale, WEVA's Director of Educational Development. Log in at www.WEVAEXPO.com and click LOUNGE - Red Room, and the "LIVE Chat" tab to tune in.

The annual WEVA "Battle of the Videographers" held during WEVA EXPO 2011 LIVE Online focused on creative Wedding Trailer Editing Styles. Each BATTLE competitor was issued the same 20 minutes of Wedding Day footage with the challenge of cutting a Wedding Trailer in their studio just prior to the opening of WEVA EXPO 2011. Current WEVA members can view the raw wedding footage on WEVA-TV(login from the WEVA Forums).

The five challengers included Keith Anderson, Wedding Day Cinema (Trailer #4), Igor Boshoer, Visualaz (Trailer #5), Garry Garza, A.G. Garza Wedding Films (Trailer #2), Karen Osborne, Studio Osborne (Trailer #3) and Javier Villarreal, Watermark Studios (Trailer #1).

During judging, the names of the Battle Challengers were not attached to the productions. Attendees voted for their favorite Trailer by the assigned production number. Trailer #5 was declared the Winner by popular vote of WEVA EXPO 2011 attendees making Igor Boshoer of Visualaz the 2011 WEVA Battle Champion!

When asked to give their best guess, the majority of attendees voted Trailer #5 (Boshoer) as being the original shooter. The footage, however, was actually shot by Anderson editor of Trailer #4. All five Wedding Film Trailers are now available for comparison in On-Demand viewing on the WEVA EXPO 2011 Show site open 24/7 worldwide.

About WEVA International

As the largest Association for professional wedding and event filmmakers, WEVA leads the field with education that's on the cutting-edge of industry developments and new technologies worldwide. WEVA members have access to exclusive business benefits and professional development resources.

For more information on WEVA industry events, and WEVA membership benefits email info@weva.com or click here. Follow WEVA on twitter and facebook.