Speakers Set for WEVA/PMA Wedding Filmmaking Event Jan. 9 at CES
November 17, 2011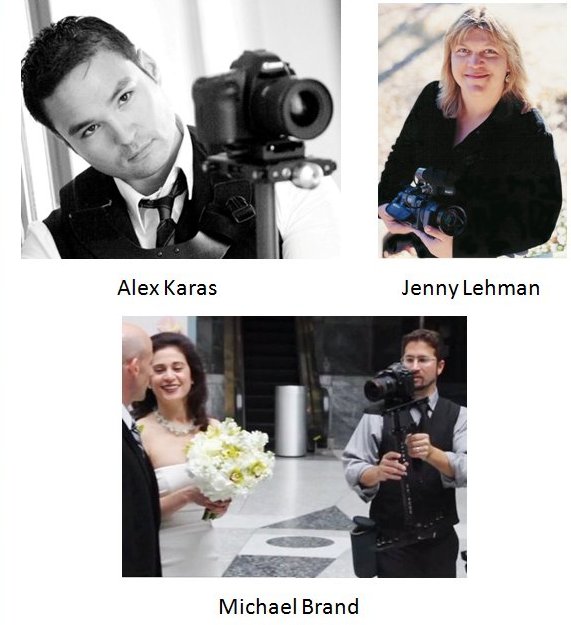 Sarasota, FL - A full-day conference on Wedding & Event Filmmaking spotlighting business-building methods and new productions techniques will be presented by WEVA in collaboration with PMA, The Worldwide Community of Imaging Associations and DIMA (Digital Imaging Marketing Association) on January 9 during CES week in Las Vegas, NV.

The all-day event "Getting Into Wedding & Event Filmmaking – 101" will be held at Bally's Las Vegas in conjunction with the 2012 DIMA Conference with Full-Registration covering breakfast, lunch, evening Welcome Reception at Bally's, plus registration for the 2012 DIMA Conference, PMA@CES Conference & Exhibits, and CES 2012 Trade Show.

WEVA Featured Speakers for the full-day conference include WEVA Creative Excellence Gold Award Winners Michael Brand - Lafayette Hill Studios, Alex Karas – Voila Cinematic, and Jenny Lehman – Jenny Lehman Film & Video.

Full-Day of Wedding & Event Filmmaking

Save time and eliminate costly "trial & error" approaches to developing a new, or extended business in wedding filmmaking and event videography. Learn successful shooting & editing techniques and proven marketing methods for competing even with businesses already well-established.

Highlights include:

* Planning for the Wedding Day – equipment needed
* The Must-Have shots for Ceremony & Reception
* Camera placement for Single and Multi-Camera coverage
* Using external recorders to maximize Audio acquisition
* Marketing that Sells
* Using Hollywood techniques in Wedding films
* Edit Workflow for DSLR Video
* Differences between Documentary & Cinematic wedding styles
* Storytelling techniques to make each Wedding Film unique

Learn the do's & don'ts of delivering great wedding & event films, and how to combine best business practices into a money-making business.

Register Now for Early-Bird Discount

Full-Registration for current WEVA MEMBERS includes the "all-access" 2012 DIMA Conference Package covering:

• DIMA Conference sessions and Vendor Reception, Roundtable Breakfast, Keynote Luncheon & Networking Breaks at Bally's January 8-9
• PMA Welcome Reception at Bally's on January 9 (following WEVA/PMA Conference)
• PMA@CES badge, which also includes all CES exhibits, keynotes & venues January 10-13.
• PMA@CES 2012 Conference Sessions at The Venetian January 10-13
• View the complete program schedule - Click Here!

For current WEVA MEMBERS the early-bird discount for Full-Registration is $299 ($599 standard) and is extended through December 23, 2011. After December 23, registration is $399 for WEVA Members. For WEVA Conference-Only, registration for current WEVA MEMBERS is $199 ($399 standard).

Current WEVA members may use the special discount code: WEVACES for Full-Conference Registration and Register Here!

To attend the WEVA Conference-only use code: 12member and Register Here!

"WEVA is excited to be collaborating with PMA to bring an all-new program of professional development education to PMA@CES 2012 that will introduce attendees to the essential keys for success as a wedding and event filmmaker," says Roy Chapman, chairman, WEVA International. "With the portability of today's cameras, production gear, and new IT media, professionals are no longer bound by their local geography in marketing their work allowing for more job opportunities and greater success in our industry locally, nationally and globally."


About PMA – The Worldwide Community of Imaging Associations

As a professional trade association, PMA helps the worldwide photo imaging community achieve business success and adapt to new technologies. Its commitment to members in 100-plus countries is part of an 86-year legacy that connects business owners to a network of knowledge and support. PMA furthers this purpose through the development of educational programs, marketing research, publications, and trade shows. As a not-for-profit organization, any success PMA achieves in its endeavors directly benefits the industry, providing the means to continually develop services and activities for members.


About WEVA International

As the largest Association for professional wedding and event filmmakers, WEVA leads the field with education that's on the cutting-edge of industry developments and new technologies worldwide. WEVA members have access to exclusive business benefits and professional development resources. For more information on WEVA industry events, and WEVA membership benefits email info@weva.com or click here. Follow WEVA on twitter and facebook.