WEVA EXPO 2011 Coming August 24-25 LIVE Online
January 28, 2011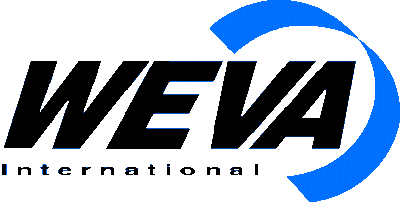 Sarasota, FL - This year all wedding & event filmmakers and digital imagers worldwide will be able to attend our industryís largest convention and trade show -- without leaving home.

The WEVA 21st Annual Wedding & Event Video Expo is going 21st Century virtual. No matter where you are located, on August 24-25 WEVA EXPO 2011 is coming to YOU - LIVE! And, with video chat so attendees can see and network with their peers across the US and around the globe. All WEVA EXPO 2011 programming, Roundtables, Q&A sessions, live networking and FREE 2-Day Trade Show will be officially scheduled on Pacific Coast hours.

WEVA EXPO 2011, which will be totally online, will follow upon the heels of WEVA's West and East Coast regional conferences in physical locations -- the Western region at NAB 2011 (April) and Eastern region at the 3rd Annual NJVA/WEVA Institute Conference (May).

Presenting Education, Exhibits & Networking for Wedding & Event Filmmakers Worldwide

"Industry professionals from the US and around the globe have asked a familiar question for years," said WEVA chairman Roy Chapman. "When are you bringing WEVA EXPO close to our home? Our entire crew wants to attend the sessions and the Trade Show, but travel is difficult, airfares are high, and hotels are expensive. We need EXPO here in our own backyard. Can WEVA make that happen?"

"Today, WEVA is pleased to announce itís happening this year! Due to the success of last year's WEVA iVideoShow, our industry's first-ever virtual Conference & Trade Show, and the never-ending speed of IT developments, WEVA EXPO 2011 will be the first global SuperShow for wedding & event filmmakers, all online. WEVA EXPO 2011 will be LIVE at your fingertips - on your laptop, or large-screen TV - and totally interactive on August 24 & 25. You canít get closer to home than that!"

Multi-Track Programming, Q&A Sessions, 2-Day Trade Show & LIVE Networking

WEVA EXPO 2011 will feature dozens of multi-track (and multi-lingual) state-of-the-art sessions presented by leading wedding & event filmmakers not only from the US, but worldwide - plus top social media marketing specialists, and industry experts on editing, workflow, lighting, audio, Web video, DSLR techniques, and much more, with live Q&A by presenters, text & video chat.

Conference-style video chat will enable you to interact with fellow attendees live online Ė even during meal breaks. Getting technical information, downloading dealer price sheets, EXPO-only specials, product literature, and watching the newest product demos will be a quick and easy.

Just like WEVA iVideoShow, many sessions, camera demonstrations, system-specific training, etc., will be available on-demand. All WEVA EXPO 2011 conference registrants will be able to access ALL programs, even watch the 2011 WEVA Creative Excellence Award Winning entries, and more.

Since last February's WEVA iVideoShow, more people in more industries have been attending conferences online instead of costly events that require travel expenses and time away from responsibilities at home and work.

"Our industry is undergoing enormous changes that are being affected by social media and new IT developments, making it harder for wedding and event filmmakers to keep up with everything, especially with the challenges of todayís economy," said WEVA's Director of Educational Development John Zale. "Itís a major reason why we are excited to be presenting WEVA EXPO 2011 online making it possible for everyone to attend."

Registration for WEVA EXPO 2011 will open soon. Watch WEVA.com for details. Below, you can read what attendees said about last year's online WEVA iVideoShow, and be sure to block your calendar now for August 24-25 for the WEVA 21st Annual Wedding & Event Video Expo. This year itís coming to YOU!


What Wedding & Event Filmmakers Said About the Live Online WEVA iVideoShow 2010

John Kerfoot: Awesome. Do it again.

Teddy Salido: Already browsing around and meeting fellow videogs. fun event.

David Notowitz: It was excellent. Lots of people were talking! I captured some of the online group chats to read at my own pace.

Maribeth Kocimski Ratajczyk: Excellent use of tools. I am benefiting from it and I am grateful. THANK YOU.

Dan O'Hara: I learned some great tips! Awesome!

Adam Forgione: The concept was very innovative. It was a very cool experience. Networking/chatting was a blast with so many familiar peers.

Michael Jensen: Great job! I hope to see the iShow again in the near future.

Ramona Lynne: Thank you so much for the WEVA iVideo conference. It was fantastic. Looking forward to the next iVideo.

Gabriel Paz: Congratulations on the success of today!

Alan Paul Naumann: Thank you for your leadership in the world of event videography. Things change so quickly that it's hard to keep up - so the information you provide is invaluable. I really liked the Online Expo - a forshadowing of things to come?

Mark Goldberg: I learned a lot from today's presenters. This was a great learning event.

David Bauers: Great show, just two complaints. Not enough restrooms and the food court sucked. Otherwise great job!

Julie Blanco Conroy: I was on all day long. Loved it!

Jose Ortiz: This is very Cool. I like it!

Oscar Dominguez: Great show, congratulations! When is the next one?

Cali Hlavac: That was awesome! Thanks so much!

Angel Menendez: Great show!

Kim Owen: Thank You....!

Aaron Olsen: I learned a ton! It was awesome = )

Sharon Frost: That was very good. Thanks very much!

Ted Nguyen: Very nice job on today's expo.I picked up a lot of useful and helpful "nuggets" today. Looking forward to the next one if WEVA does it again.

Gonzalo Fanny: It was Great, learned a lot...Thx again

Rodolfo Vazquez: Great job!

Wendi Koble: It was awesome!! Thanks so much!!

Steve Cureton: You all did a very great thing - thank you.

Leon Johnson: Thanks for a great iVideo today. I didn't miss that plane ride at all. Lots of great information that helped me to think outside the box.


About WEVA International

Founded over a decade ago, WEVA International is the largest trade association for wedding and event filmmakers and leads the field with education that's on the cutting-edge of industry developments and new technologies. To see the full list of WEVA membership benefits click here.