In Memory of Pamela Andelora - WEVA's Diva Angel
February 12, 2008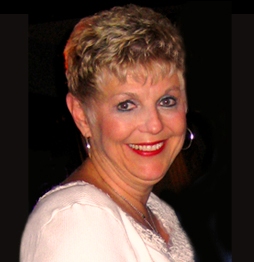 Sarasota, FL - What can you say about someone whose very presence in a room provided a warm, effervescent light with such an enormous positive aura that no matter what kind of mood you were in, would bring a smile to your face... A person who would go out of her way to seek out newcomers in a crowded ballroom of videographers and make them feel as welcome as an old friend... A benevolent soul who would comfort and guide you if you felt down and make you feel that everything really would be OK... A consummate industry professional whose videos evoked loving, emotion-filled memories for thousands of people throughout a career that spanned two decades... Pamela Andelora was all of that and more.

"We learned that Pam passed away in her sleep on Saturday, February 9, in the early morning hours. The news is even more shocking as we had all enjoyed such good times together when she and Tom were at the WEVA/PMA convention just a week ago. We have lost so suddenly a very special friend, and a leading light in our association," said WEVA International Chairman Roy Chapman.

A WEVA Ambassador Award honoree, Pam was also a dedicated member of the WEVA Ethics Committee, the annual EXPO Staff, and a former WEVA Creative Excellence Awards Competition Judge.

"Pam was an ambassador of goodwill long before the WEVA Special Awards of Industry Recognition were introduced. Her personality was so sparkling, so engaging you always felt comfortable and at ease," Chapman said. "WEVA members who knew Pam felt she personified the genuine spirit of the association.

"She had that spirit from the very beginning, and she was there, at the beginning. I first met Pam in Washington DC, at the first EXPO back in the summer of 1991. Her smile was warm and welcoming then just as it was when she came to help with WEVA's winter convention only a week ago. That was Pam. She was always there to help in any capacity, with an outlook that was always positive, always upbeat. From the time WEVA was formed, she worked on behalf of fellow members year in and year out. She loved WEVA, and WEVA members, from newcomers to industry veterans, loved Pam. None of us will ever forget her."

A breast cancer survivor, Pam was 57. Born on September 4, 1951 in Buffalo, NY she was one of three siblings. Her sister preceded her in passing. She is survived by her brother, Steven Nowak of Buffalo, five stepchildren, several cousins, and numerous nieces, nephews and grandchildren.

Pam attended Maryvale High School in Cheektowaga, NY, just east of Buffalo, and after graduating went to cosmetology school, and later owned her own hair salon for several years before video captured her interest and ignited a new passion for preserving memories in motion.

She was married to her beloved husband Carmen Andelora for 26 years until he passed away in 2002. Recently, she said to friends that she had met her next soul mate and the love of her life, Tom Midstokke. Last year they had traveled together extensively, emailing digital memories to WEVA friends from each location they visited.

Videography and photography had started as a hobby for Pam after her father gave her a box of old family movies that she lovingly made into a video. That's when she and Carmen discovered they were on to something extraordinary and together started a videography business in Buffalo. She recently owned Andelora Video Productions in Sun Lakes, AZ.

From early on, Pam used her increasing knowledge of video and her business skills to help others reach their goals in professional videography. Her first nationwide industry-related article headlined, "Creativity in Wedding Video" appeared in a 1993 edition of Wedding Videography Today.

Pro-active in promoting women's issues within WEVA, Pam was affectionately known as an original "WEVA Diva" a moniker she cherished in an industry rapidly evolving from its original masculine underpinnings. Pam had first-hand experience with the distinctive pressures and challenges that female videographers encountered over the years, and throughout her career she remained a strong advocate for women in video.

WEVA, she said, had continued to help her in her own business. In turn, Pam dedicated herself to helping educate others on how her membership in WEVA had helped her develop video skills and grow her business. When a videographer needed information, guidance or counseling, Pam was always there to help at anytime, always in a caring manner, always with a smile on her face.

WEVA members who didn't know Pam personally would remember her infectious smile and pleasant "hello" when she was a volunteer manager of The WEVA Store at the annual EXPO beginning in 2004. She played an instrumental role in the selection – even the design – of items in the store and kept in mind the types of items videographers would most want to see. The popular WEVA Diva shirts, which first appeared in The WEVA Store, were one of those custom design creations.

"There is no question that when Pam was in the room, or in the store, so was the WEVA spirit!" said WEVA Hall of Fame inductee Kathy Ritondo. "When you came away from a conversation with Pam, you couldn't help but be uplifted and feel better about yourself, your business, and our industry." Kathy and Al Ritondo have produced and posted online a photo montage in a loving tribute to Pam.

Her friends said Pam appreciated the accolades she always received, and there were many at each EXPO, but they agree it wasn't her motivation. "She took it all in stride," said Dan Argenas WEVA's Director of Association Communications. "She truly felt her real reward came from helping fellow members - seeing them succeed in their business and having fun in the process. It would be hard for Pam to sit still and listen to so many compliments. If you knew Pam you knew she would rather just put on her dancing shoes, find a good place with a good band and dance the night away with friends and colleagues. That was Pam!"

When an event has ended, linens are folded, things are put away, clothes are changed, lights are turned out, and goodbyes are exchanged, "but through the magic of video," Pam always said, "the memories will live on forever." And so will you Pam...we'll miss you.

A Memorial Service for Pam Andelora will be held on Tuesday, February 19 at 10:00 a.m. at St. Stevens Parish, 28247 S. Dobson Road, Sun Lakes, Arizona 85248 (480) 895-9266, located approximately 20 miles south of the Phoenix airport. Flowers may be sent to St. Stevens Parish, and if you wish to make a donation, two of Pam's favorite charities were the Susan G. Komen Breast Cancer Foundation & The American Heart Association.